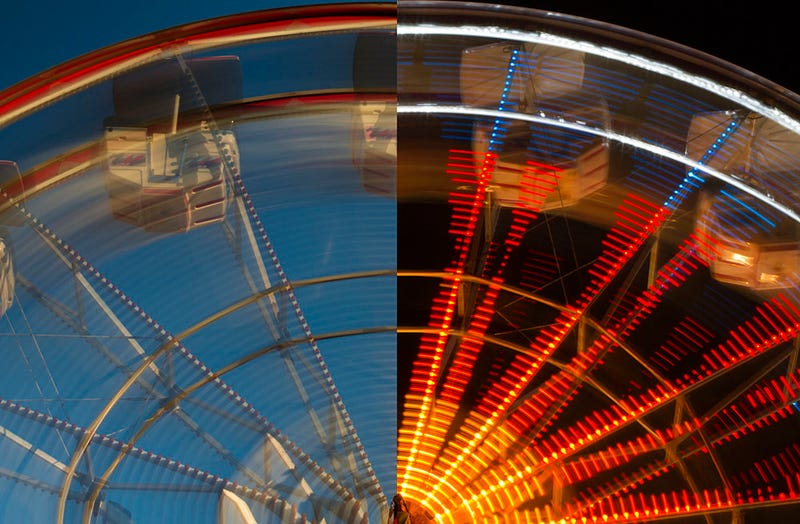 There are two sides to every story, but photos only contain a single image. The dual-imaged diptychs from this week's Shooting Challenge show us perspectives otherwise lost...along with a very strange trend/phenomenon. Can you spot it in the results?
Before we move on, find full-size, dual-monitor-friendly wallpapers on flickr.
Lead Shot
Both shots were on the Canon EOS 7D in manual focus with the EF 50mm f/1.4 USM. For the day shot, I used my Fader ND Mark II filter set to its max of 8 stops of density. (ISO: 100, Shutter Speed: 8 seconds, Aperture: 22). For the night shot, all the same as the day settings, minus the ND filter.
So I used light versus dark extended exposures for my diptych, and what better subject matter than the county fair Ferris wheel (in that anything that reminds me of summer is win!) To get the two images as close to the same as possible, I setup the tripod for the day shot, locking everything in place, then (don't tell anyone) I dug a small hole right under the center of the tripod so I knew where to place it when I came back later that evening. I also kept everything set and locked on the tripod, only folding the legs in, so the angle at which I took the picture was the same. For both pictures I tried to time it so that I would start the exposure right before they started spinning the wheel so you could make out the actual carts on the ride too. This was probably the most difficult part of the shot.
[Ed note: So great, and while it may be outside the scope of this contest, I'd love to see the two images combined in differently shaped crops and custom blends.]
-Joshua Winkelmann
City Mouse, Country Mouse

Shooting Info: Sony A550, Sony 50mm F1.8 lens wide open, ISO-200, 1/500 sec., respective shots taken 2.5 hours apart on the same day. Diptych put together in Photoshop. I was looking for a couple of shots that would either contrast or complement one another. With the summer heat bearing down, I settled for the contrast of my wife enjoying the relative cool of a nearby park (right) compared with the suffocating heat of the concrete jungle just outside our apartment.
[Ed note: I could see this as a dual-page catalog spread, pricing the outfits above.]
-Ben Torode
Stream

Nikon d40 18-55 kit lens at 55mm.
f/5.6 1/500 sec. Shutter priority and Built-in flash at 1/32 power. I put the camera vertically on a tripod facing the kitchen faucet and opened it up enough to get bubbles in the water stream. Took two pictures with different color shirts as the background.
[Ed note: More and more, I'm realizing that t-shirts make legitimate backdrops.]
-Jorge Jimenez
The Holdout

Taken with a Panasonic Lumix DMC-T25 point and shoot, no special settings. Processed in gimp, simply overlaying each photo onto itself to bring out the color/texture. Our thorny Acacia tree in our front yard has dropped almost all of its beans, except for a few final few holdouts. The first photo of the diptych is a holdout bean, and the second photo is the bean's ultimate fate. Taken mid-afternoon to catch the shadows.
[Ed note: The implied journey adds so much to two simple shots.]
-Anna Vickroy
Lonely at the Sandwich Shop

Nikon D90, Lens: 50mm f/1.8, ISO: 200, Exposure: 1/160th sec at f/1.8. This was taken at Ye Olde Fashioned Ice Cream Shop in Summerville, SC (best burgers in the south!) My daughter was sitting at the counter waiting to get a drink refill, and I was shooting the classic looking red stools against the blue background and I thought she looked pretty lonely at the counter all alone with her Elmo T-Shirt that is begging for attention, so I then pointed the camera at her. I think the lone stool next to my daughter captures the theme of loneliness.
[Ed note: Then spend more time with your daughter, less with your camera!! :) I kid. I kid. Interesting chromatic parallel.]
-Joseph Nienstedt

Nikon D3000, 18-55mm lens at 18mm, 100 ISO, f/5.6
I wanted to find a concept or idea that couldn't be captured in just one photograph. After thinking for a while, I came up with a magicians hat. It's the perfect concept for a diptych, but I don't feel like I pulled it off very well. The photo is supposed to be of a beleaguered amateur magician who lost his shoes in his hat.
[Ed note: If only there was a tie to the shoe imagery in the first shot, this clever story would be fully realized. Ahh, now I get it. I was way too slow with that one.]
-Dustin Chan
Fire and Ice

When I read the challenge for this week about diptychs, I thought about some of the places that I have lived. I formerly lived in the north where it is frequently cold and now live in the south where it is often very hot. This brought to mind Robert Frost's poem Fire and Ice. So I made this diptych using some red crumpled tissue paper back lit with a desk lamp for the fire and a piece of glass frozen in my freezer for theice. Then I merged them together and penned this poem.
I lived in the north times cold as ice
Then in the south oft blazing hot
in spite of all both places were nice.
to choose between the ice and fire
I'll take the warm when I retire.
[Ed note: Henceforth, all Shooting Challenge entries will require poetry.]
-Duane Sager
Camera, Meet Bee

Shot with a Canon 5d Mark II and 100mm f2.8 macro lens. Shot wide open, 200 iso, with a 1/2000 shutter speed, underexposing the shot by a third. I set up my 24-105mm on my friend's 7d, and lined it up with the pictured flower. My 5d was on a video tripod for an easy, level pan, such that both the flower and the lens were in focus. Then, I just waited with my finger poised on the remote shutter for one of the massive bees zooming around the garden to cross the focal plane — each time one did, I tried to capture it. Eventually I got one in focus and where I wanted it, and I just panned the camera over and quickly took the second shot, of the 24-105. Very little photoshopping needed, just brought the exposure up to neutral and put the two shots together.
[Ed note: Looks fantastic blended, but would totally work in two separate frames on a wall.]
-Charlier Dwyer

Pentax K-x, kit lens, 38mm w/macro setting, f5.6, 6 seconds (and used "light" HDR camera setting), ISO 100, tripod with IR remote, Adjusted levels in PE6, combined using panorama in PE6
[Ed note: A fun play on basic colors that could be scaled to a triptych or beyond with different objects.]
-Mellanie Fuller

Canon Rebel XS with 18-55mm lens @ 28mm, 1/3000 f/5.6 @ ISO 800. I was on my way to Delaware when I stopped by a construction site. They were building cookie-cutter houses. I found two right next to each other, one complete, and the other made only of wood frames. I especially like how the road on the right side is made of gravel making the juxtaposition even more extreme.
[Ed note: Note the lack of internal organs.]
-Nick Cheng
Winner, Traditional Style - Traffic Explosion

Gear: Nikon D90, 18-200mm VR
Settings: 18mm, 120 second exposure / 60 second exposure, f/11, ISO200
I've always liked long exposure shots, particularly of traffic. When I read the challenge for the week, my first thought was some pair of photos that kind of had a yin-yang vibe to them. The two shots were taken over I-93 in Manchester, NH. Both were taking facing north, so the tail lights are the northbound lanes and the headlights are the southbound lanes. It started raining as I was driving to the bridge, so I think the wet road helped the appearance. In post processing, I reduced the exposure of the southbound shot and increased the exposure of the northbound shot to try to get them closer together. After that, I just cropped them down to something that I thought looked good. When it came to combining them, I played around with putting them side-by-side before I decided to rotate the southbound image and line them up vertically. It made for a sort of explosion of light.
[Ed note: There are just so many aspects of this shot that I love. From the indirect play on the camera's perspective (through the different colors of headlights/taillights) to the aesthetic accosting of one's eyes to what could easily be a statement about the scope modern transportation system. Great piece.]
-Ryan Powers
Winner, Avant-Garde Style - Dual Horizon

The camera is a Pentax K-x, with a 300mm telephoto at 55mm focal length, ISO 400, f11, 1/100. I took two photos of the horizon (different directions) just before a thunder storm came in. I pasted the photos together with Keynote and then edited them in iPhoto. I added the Black and White filter and upped the contrast on both. I rotated one so the horizon was on the top.
[Ed note: Sorry, I just couldn't decide between winners this week, especially with the styles of diptych being so diverse. This shot is a little less traditional, using strict blending/cropping in a manner that probably wouldn't hold up in a separate frame. But the effect WORKS, and I'd argue that it's still a proper diptych. The clouds are enchanting, and mixing two lenses to skew the horizon adds so much to the complexity of the shot that your eyes never get bored of looking at it.]
-Stephen Daily
The Odd Phenomenon
Look back through the winner's circle, and check out how many photos are red/blue, or variations thereof. I didn't notice until I pulled my favorites—which I'd argue I liked for concept, framing and execution as much as color. But apparently, I'm just as susceptible as anyone else to the red/blue or orange/blue motif we see in movie posters and video game covers. Keep an eye out for it!
Gallery 1 (single page)

Gallery 2 (single page)

If you like Shooting Challenges, you may also like my new site: Life, Panoramic. Users have already submitted their hometown shots, including Tianjin, New York and Las Vegas.