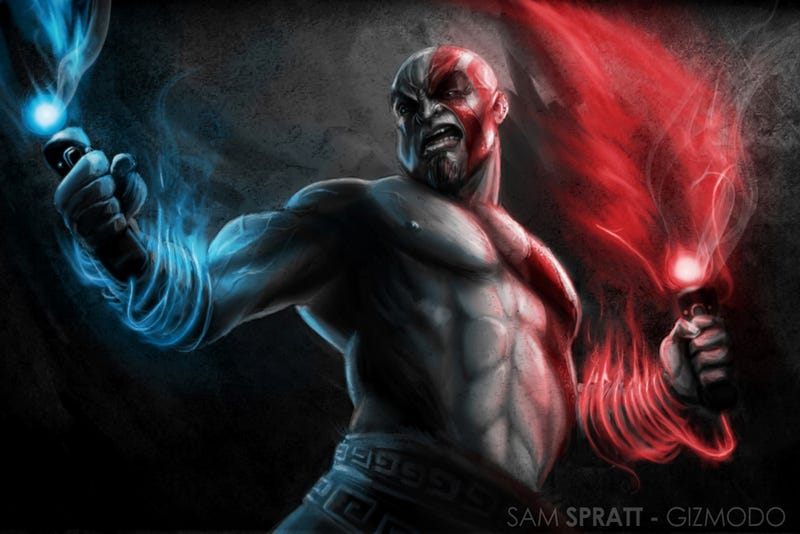 As expected, Sony's Move is perfectly competent, hardware-wise, because Sony is a hardware company. But making games that mimic Nintendo's casual-friendly Wii party games is the wrong move. Instead, they need to focus on their true fanbase: The hardcore fans.
Of the three current-gen consoles, Sony has done the most to appeal to the hardcore gamer—the fan that grew up playing PlayStations. But in their haste to develop easily-accessible games for the mass-market—for the kind of people who buy Nintendo Wiis—they've sort of abandoned their base. Here's where the Move is now, and where it needs to go.
How it works
Sony's PlayStation Move is slightly different from the Wii in that it relies heavily on the PlayStation Eye, a high quality 60FPS at 640x480 or 120FPS at 320x240 webcam. The controllers have motion/inertial sensors inside, but are spatially located in 3D via the glowing ball on the tip by the webcam. And like the Wiimote, there's a secondary controller for your offhand (called the Navigation Controller) that doesn't have the rubber light-up ball tip, but provides the equivalence of a DualShock 3 controller to navigate menus. You can even just hold a regular DualShock 3 instead of a Navigation Controller if you want to save some money and don't mind the extra weight. Some games have you use just the Move, both the Move and the NC, or two Moves.
What can it do that Nintendon't
Sony claims that the Move is more accurate than the Wiimote, and doesn't have any of the jittery cursor problems that comes from using Nintendo's IR emitter and sensor-based system. The latter might be true, but in practice, in the games that I tried, it's just about as accurate as the Wii MotionPlus—which is to say, accurate about 75% of the time, and frustratingly loose the other 25% of the time.
What the PS3 does have is the PlayStation Eye, which allows the system to play augmented reality games, where you turn your Move controller into various objects in Start the Party, or to poke or prod the mini monkey in Eyepet. So far, this is only used as slightly more than a gimmick, but if utilized creatively, the presence of a camera could be fantastic.
Imagine facial scanning and facial mapping, something that's been done already in a few games on the Xbox 360 already via its webcam, so you can put your own face on the character in the game. Or, if you're playing a horror game, it can take a shot of your living room, and in a very tense scene, show your room on TV with the killer standing over your shoulder. There are lots of things you can do with the camera that aren't being done yet.
Competing on party games is a losing battle
The unfortunate strategy Sony has taken, on the first round of launch games, is to basically try and bring Nintendo Wii-like games into the HD realm with PS3-level graphics. It might look nice, but this strategy isn't going to work to define a new platform.
I'm not saying the launch party games like Kung Fu Rider and Start the Party and Sports Champions are bad, they're just the same old Wii party games we've been seeing for four years. Sports Champions, the Move version of Wii Sports Plus, has the standard outdoor games of archery, sword fighting, disc golf, ping pong volleyball and bocce. They're executed well enough, and the Move provides adequate fidelity when chucking a frisbee, or swinging a sword and blocking with a shield, but is only so-so in the ping pong game and the archery game. It's nothing better or worse than you'd see on the Wii nowadays, with Wii MotionPlus, despite the much improved graphics and use of more lifelike, yet still cartoony, avatars.
And with Start the Party and Kung Fu Rider, Sony's not really pushing the boundaries of what a motion controller can do. Kung Fu Rider is an alright kart-based party game, and STP has an interesting use of showing YOU, on screen, when you're playing, but the actual gameplay of flicking the controller around with just your wrist has been done. And done. And done again.
We've had enough waggle
Nintendo's success with the Wii shows that motion gaming is something people, even casual players, want. But four years and hundreds of millions of sales means that everyone who wants a Wii probably already has one, or knows someone who has one, or at the very least, has played one at a Best Buy. They don't need another console that does the same thing, with a slightly different controller and a camera. We're all Wii'ed out, as Nintendo's declining 2010 sales has started to show.
This is not what Sony needs to do. They need to get to their developers and deliver a message: Don't copy Wii, do something PlayStation.
The need for Move
The one title that shows the promise of the Move is actually not a launch title, but a game that came out earlier this year and is getting a patch to enable Move support: Heavy Rain.
Our review of Heavy Rain touched on the fact that it's a game that's more movie than game—a game that does something very different by letting you control motion-captured, pre-animated scenes.