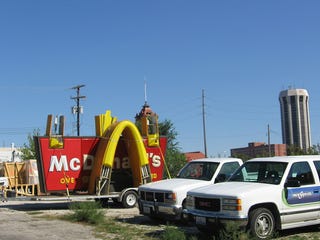 Many would be glad to see the Golden Arches topple for reasons nutritional, but some scientists think that with the human population growing and oil production past its peak, the era of cheap, abundant food is reaching its inevitable end.
Reviewing The Coming Famine, a new book by Australian scientist Julian Cribb, in the NYT, Mark Bittman summarizes:
Like many other experts, [Cribb] argues that we have passed the peak of oil production, and it's all downhill from now on. He then presents evidence that we have passed the peaks for water, fertilizer and land, and that we will all soon be made painfully aware that we have passed it for food, as wealthy nations experience shortages and rising prices, and poorer ones starve.
The problem isn't just overpopulation, Cribb contends, it's overpopulation that's soon to be matched by overconsumption—the "two elephants in the kitchen," he deems them. In his book, Bittman explains, Cribb spells out
the fate of a planet whose resources have, in the last 200 years, been carelessly, even ruthlessly exploited for the benefit of the minority. Now that the majority is beginning to demand - or at least crave - the same kind of existence, it's clear that, population boom or not, there simply isn't enough of the Euro-American way of life to go around.
And this is precisely the reason that genetically modified foods look like an increasingly attractive option. The way things are trending—both with food markets and global diets—the demand for food is quickly outpacing what agriculture and husbandry can supply.