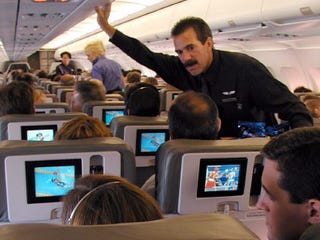 JetBlue, one of the more forward thinking airlines in the industry, has been conspicuously behind some of its competitors when it comes to offering in-flight Internet access. But JetBlue's delay might allow it to offer better service than the competition.
JetBlue's late start may actually allow it to offer a better service than its rivals and it looks like it's finally ready to start rolling out web access across its fleet, FlightGlobal reports.
But because it's using a different technology than today's existing in-air wi-fi providers, it's going to take a while.
JetBlue won't start installing the gear until mid-2012, FlightGlobal says; the system needs to be tested and approved by the FAA before it can be rolled out.
The main configuration difference is that JetBlue's wi-fi will be getting its bandwidth from satellites, versus today's hook-ups, which get it from the ground.