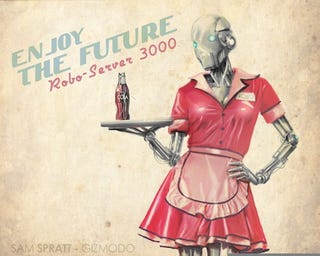 The basic premises of going to a restaurant haven't changed tremendously throughout history. You sit down. You order. It shows up. Maybe it's good. But new, high tech establishments around the world are putting a innovative spin on eating out.
1. Inamo, London


Inamo's claim to fame is its sophisticated ordering system—no waiters to be found, be they cranky or hospitable, but rather a projection interface that turns your entire table into a touchable menu. The eatery's Asian fusion fare is visualized on the tabletop itself—just touch and go. But visuals aren't just for the menu—the projector will let you customize your dining experience with various virtual "table cloths," distract your screaming children and/or younger siblings with games, or even watch a chef prepare your meal via cam. This all may be bit on the sensory overload side, but perhaps perfect for an awkward blind date where neither party will have much to say.
"Hey! Look at.. the table. You can touch it, and it changes."
"Yes. It does."
"..."
2. 4food, New York


4food, a new burger spot in midtown Manhattan, attempts to smash every norm you'd expect from a lunch break burger joint. The menus? iPads. The decor? A giant wall of cascading tweets. The patties? A sci-fi ring shape. 4food even tacks on a social networking component to your dining experience, allowing you to customize and share your own burger combo and earn store credit if other diners order it—a neat incentive to get you back to filling your jaws. If you stop by, make sure to try the mac & cheese option.
3. Bones, Atlanta


Famed steakhouse Bones earned its geek cred for upping wine sales by 11% in just three weeks as soon as it ported over its list to a fleet of iPads. If you're anything like me, navigating a traditional paper wine list is an exercise in being both ignorant and broke and not wishing to appear as these things—and usually turns into a nervous guessing game. But Bones lets diners act as their own sommeliers by browsing reviews paired with the restaurant's staggering 1,350 label list. Bones rakes in the dough, and you make an informed choice (and don't look like a clueless putz). Everyone wins!