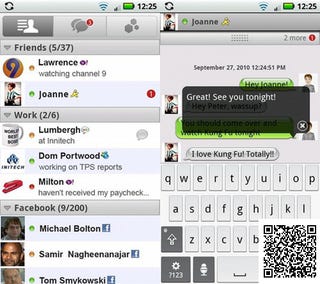 beejiveIM: Beejive, the best instant messaging app on those other smartphone platforms, has finally made its way to Android and though it costs 10 bucks, it's as nice and feature packed as IM clients go (it has a conversation drawer!). Beejive supports AIM, MSN, Yahoo, Google Talk and other clients while allowing file transfers between users as well. There are other free options available for Android so you may not want to drop $10, but Beejive is definitely worth thinking about, at least.

Bloomberg: If you geek out on financial news and stock prices, you'll be thankful to know that Bloomberg has finally released an official Android application. It's been on the iPhone and Blackberry for a while now, but this version comes complete with two home screen widgets. I'm no business type myself, but it seems like Bloomberg hits all the black numbers and bidness coverage that the suits love.

Foursquare: Foursquare just got a 2.0 update and it's a major one. 2.0 is bringing a prettier version of Foursquare that's much smoother to use and more similar to the iPhone version (in this case, that's a good thing). There's new 'To-Do' and 'Tips' tabs which make the experience of checking in to places that much more accomplishing.

Car Home: Google just put out Car Home in the Android Market and the updated app finally brings some customization to the driving friendly app. Meaning you can re-arrange the shortcuts, remove shortcuts, change the wallpaper, and add new application shortcuts. It's nice that Google releases their apps in Android Market so anyone can download them, it just sucks that most their new apps require Android 2.2, since carriers are slow to push out.

SayMyName Dessert: It's a basic app that simply reads the name of the person who just called, texted, or e-mailed you out loud. Not only that, SayMyName Dessert can read out email subjects and read entire text messages.

Tawkon: Tawkon is an app that promises to monitor your phone's radiation levels. I'm not sure how accurate it can be, but here's what they do, according to scared-of-radiation-'ol-me: