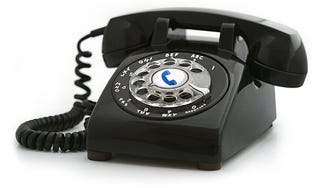 Even if you hold your laptop up to your face like a flip phone, talking into your computer is lame. You want to use Google Voice like a real phone—with buttons and stuff. We'll tell you how.
If you don't have it already, you're going to need a Google Voice account. It's easy. If you live in the US, you can <a href="https://www.google.com/accounts/ServiceLogin?service=grandcentral&passive=1209600&continue=https://www.google.com/voice&followup=https://www.google.com/voiceget a Google Voice number right here, right now, for free. Do it. Now, each method we'll detail will need some minor setup on the Google Voice side of things, so get to know it a little bit. The main setting you'll be monkeying with is getting Google Voice to forward calls to the right number. Basically:
• Log onto Google Voice
• Hit the Settings button in the upper right hand corner.
• Click on "Add another phone", and punch in whatever number you want.
• GV will call that number to confirm.
The High Roller: Ooma Telo
If Google Voice's ability to unite all your numbers—not its cost—is what you're most interested in, this is the solution for you. Ooma might look like a router, but it's so much more. On its own, the system actually provides free, unlimited VoIP home phone service for the rest of your life. (Well, you still have to shell out for the thing, but it sure beats being a monthly prisoner of the telcos.) The Telo's greatest talent, though, might be how seamlessly it integrates with Google Voice, letting you easily make and receive calls from and to your Google Voice number. Once you get the setup, ahem, dialed, it works effortlessly with GVoice, ringing when people call your virtual phone, displaying your account's number when you dial out, and forwarding missed calls to your Google voicemail.