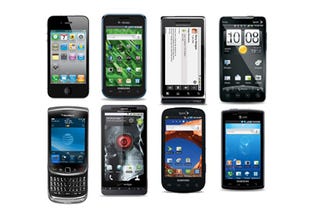 Maybe you just recently bought the phone of your dreams. Maybe you're due for an upgrade. In any event, the phone you coveted six months ago is probably not the one you're coveting now. So which would you buy today?
Androids and iPhones are getting better at doing business. Blackberrys are getting better at doing multimedia. OS updates are rolling out fast and furious, bringing compelling new features with each iteration. Things in the mobile industry are changing fast, and the devices available to consumers are changing right along with them. It's OK if it makes you feel kinda funny inside.
Perhaps, if you had to choose, your allegiance would be with the iPhone. It has a beautiful, if flawed, design; there are more apps than you can wave an iTunes gift card at; and the OS is polished like beach glass.