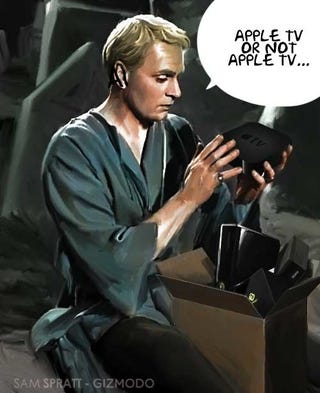 By lowering the price to $99, Apple has made a bold thrust into the living room, proclaiming, "This is the streamer for the masses." But, ho, masses! Should you add this relatively inexpensive box to your increasingly cluttered TV system?
As with most decisions, the long answer is: It depends. The short answer: no, unless you're in the smallish group that doesn't already have an Xbox 360, PS3, TiVo or some other streamer. Or unless you really love your Apple ecosystem.
What's this new Apple TV do?
Like the old ATV, this little black box allows you to play content from your iTunes library on your TV or home entertainment stack. It also opens the door for Netflix, YouTube, Flickr, and MobileMe photos. Pretty soon, it'll let you stream pics and vids directly from your iOS devices. It's very much still an Apple TV, meaning, it's primarily designed to move Apple's own content into your living room. Netflix is obligatory—because literally every other set-top-box has it, and leaving it out would be akin to showing up to a new job without pants.
Here's a quick video tour of what Apple TV does.
Netflix
For comparison, here's a video of the Netflix implementations on each respective box. Seeing how you get from boot-up to movie gives you a pretty good sense of the UI.
Here's the good news: we're almost done. All you have to do is decide which category you fall into, and click the relevant link below. Do you already own a TiVo? Do you have the old Apple TV? That's the section for you.
But if you want to be the guy who knows everything about media streamers, feel free to read the whole piece. And if you fall into more than one category, you can click around.
I already own the old Apple TV
I have a TiVo or a PS3 or an Xbox or a Wii
I don't have anything, and I want internet streaming video
All I want is Netflix, and I want it as cheaply as possible
I torrent a lot
I like as much stuff to watch as possible
I just want to know which one of these is the best

The 10 million (estimated) of you who bought the old Apple TV are in an interesting position. You already have basically all the functionality found in the new device—down to the UI—save for Netflix, but you bought the thing when it was more than twice as expensive. You can already stream your music, watch and rent iTunes movies and get YouTube and Flickr and MobileMe.
So the question is, do you own a TiVo, an Xbox 360/PS3, or one of the many Blu-ray players and TVs with Netflix support? If so, screw it; you don't need the new Apple TV. If you don't have any of these things, you can sell your old Apple TV and grab the new one and actually make some money. Old ATVs are selling for $100-$150 on eBay—because of the hard drive, and because they've been hacked to run Boxee and other software—so you can get additional functionality and trade up to a smaller box. All you lose is the on-board storage. But come on—you weren't using anyway. It's pretty much guaranteed that the new Apple TV is going to get hacked to run Boxee too, but that will take a while.
One thing you will lose is the ability to purchase movies and store them on your Apple TV. For an HD movie, that's a $20 vs. $5 difference. Are you really gonna watch Iron Man 2 more than four times to justify the purchase?
AirPlay is also a compelling future reason to get the Apple TV if you have an iPad or an iPhone, but right now, there's not much to it. Sure, eventually you'll be able to rent something on your iPad and stream it to your ATV, but until Apple starts supporting other content sources, that feature is moot. Let's talk once there's an actual ecosystem around AirPlay and other equipment manufacturers support it. For now, you're OK.