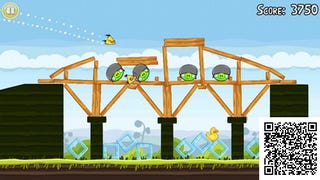 Angry Birds: If you're the only person on the planet who has yet to play Angry Birds, you no longer have an excuse. Why? Because it's completely free on the Android Market right now. That's right. The full, complete version is fuh-fuh-free. The joy of crashing wood and concrete to destroy green pigs for free? Unmeasurable. My god, why are you still reading this. Go download it.

GrubHub: When I don't feel like cooking or going out (pretty often), I'm on GrubHub. GrubHub is a service that tells you what food joints deliver to your apartment and gives you access to their menus too. With the Android app (which is still in beta), you can see reviews and ratings, order online, or place a call. Unfortunately, you can't save past orders and your credit card info with the beta version (like you can on the iPhone), but I'm sure they'll figure out how to implement that in future releases.

Tweetdeck: It's finally out of beta and that should be great news for all you Tweetdeck fans out there. In addition to updating and viewing your Twitter account (obviously), Tweetdeck offers support for Facebook, Foursquare and Buzz too, so it's a ton of location-y apps rolled into one. It's a free and there's a widgets, too.

MessagEase: Admittedly, the keyboard looks weird as hell. But! MessagEase swears that by placing the most used keys in a big button arrangement, that you can type faster. It's optimized for one handed use and if you can spend some time to learn it, MessagEase sorta does speeds things up.

Walky Talky: Google recently put out some great navigation aid apps to the Market and it's supposed to assist blind people in navigating around. But! It's actually helpful for everyone, says Kat: