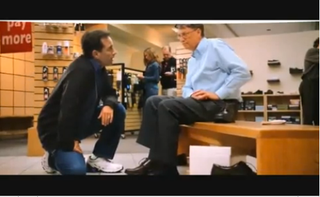 Microsoft's about to embark on a one billion dollar marketing adventure to support Kinect and Windows Phone 7. Good luck to them! Because as these past epically failed advertising efforts show, Microsoft could be about to waste a lotta of money if they're not careful with the creative:
Ballmer Sells Windows 1.0
You may not have realized it, but the terrible Microsoft advertising tradition goes all the way back to a young (though still bald and yelly) Steve Ballmer, doing his best used car salesman bit to push Windows 1.0 on an unsuspecting public.
Windows 386 Terrifying Rap
Okay, so this wasn't a TV ad. It was originally a 12-minute promotional video for Windows 386 that Microsoft sent out to retailers in 1988. The whole thing is a bizarre office drama, but the only part you need to worry about is this rapping banshee that will haunt your dreams forever, the end.