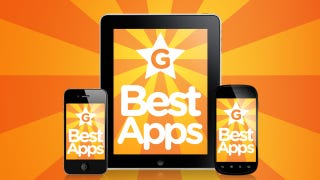 There's an ocean of apps out there. Whether you just got your iPhone and are feeling adrift or you're a salty old dog seeing what you might've missed, here are the absolutely essential apps.
Social
Twitter: Twitter thankfully didn't make too many changes when they gobbled up the already-great Tweetie 2 from Atebits—same clean interface, same Tweet swiping, and the same it-feels-so-good pull to refresh mechanism. Free.
---
Facebook: The new, panel-based interface takes a little getting used to, but once you're acclimated it's the most effective way to throw yourself, fingers first, into the black hole timesuck that is Facebook. Free.
---
Google+: It's Google's big soiree into social "sharing". The app has it all: a stream that shows what your friends are talking about (like Facebook), Huddle which is an easy to set up group chats (like GroupMe) and will even automatically upload the pictures you take on your phone to the cloud (like iCloud). Once you get a Google+ invite, one of those features will pull you in.
---
Fring: Not only a decent multinetwork chat client, Fring also allows for free (or in some certain cases dirt cheap) VoIP calls and, for those with a front facing camera, video calls over WiFi and 3G. Free.
---
Meebo: Meebo is the king of iPhone messenger apps right now, with support for AIM, Google Talk, Facebook and the like (as well as an impressive list of smaller networks) all packed into a pretty, polished package. Free.
---
Instagram: Take a photo and dress it up with one of the supplied Hipstamatic-esque filters, Then you share it over the usual suspects—Twitter, Tumblr, Flickr, etc —or, and here's the interesting part, over Instagram's built-in social networking service. It's new and ambitious and that's why we like it. Free.
---
GroupMe: A godsend of a group messaging app, GroupMe killed for us at CES. The idea is simple: your friends are grouped together via a phone number and when you text that number it sends the message to everyone (with your name in front). Like a SMS chat room. Free.
---
Facebook Messenger: Think of it as a cross platform messaging service that enables you to easily talk to people on any platform-Android, iPhone, Facebook, SMS and everything in between. It's not dissimilar to Kik or WhatsApp in this aspect. If your friends are on Facebook, they'll get your message in the Messages (or on their Android or iPhone). If they're not on Facebook, it'll be re-directed as a SMS message.
---
Black SMS: This clandestine app keeps your juiciest texts hidden from prying eyes. Simply open the app, assign a password to your text conversation, and your messages will be kept between you and the person you're chatting with. Secrets! $0.99
---
Tumblr 2.0: Tumblr's iPhone app, which used to suck, has been graced with a brand new interface that makes it brainless to use. Everything about 2.0 is smoother, simpler, and all around better. Writing an entry is easy-be it a photo post or just a reblog-and switching between multiple blogs is handled gracefully.
---
Sprd the Note: Share song with your friends directly from your iPhone. Import the track your want to share from your iPhone/iPod touch's music library in Sprd the Note and you'll have the option to share via Wi-Fi, Bluetooth, or email.
---
Go: GO is an easy-to-use and beautiful app that lets users post photos, videos and messages onto their network (no cheating with backdated photos!). What's great about GO is that it offers an anonymous option so you can feel free to post whatever you want without attaching your handle to it.
---
Highlight: Highlight uses information from your Facebook account to determine if other Highlight users in the vicinity should know about each other. It also tells you when one of your actual friends is nearby-roughly within one-and-a-half blocks. The app will send a push notification once someone journeys into that radius.
---
Entertainment
Spotify: Spotify is as close to a great streaming service we can get. The iPhone app lets you listen to all of Spotify's 13 million track library and with an offline mode, can even do it without a data connection because you can wirelessly sync your local files to your phone, create and sync playlists and more.
---
Skitch: We're huge fans of Skitch here at Gizmodo-it's a simple, straightforward way to illustrate your photos with arrows, circles, lines, and text to demonstrate a point. And beyond that, it's fun! And now it works on your iPhone. Free
---
Netflix: All the joys of Netflix in your pocket, all the time—including the power to battle that always growing Watch Instantly queue. Streaming's silky smooth over Wi-Fi, less so over 3G, but the app itself is indispensable. Free.
---
Remote: Apple's official app for controlling iTunes from wherever your butt might find itself planted is pretty much perfect. Browse your entire library by artist, song, playlist, whatever, pick a tune, and there it is, playing in your iTunes. Free.
---
Shazam: You know that song you keep hearing everywhere but can't quite place? Shazam can place it. Like, almost every time. Shazam Encore, $6, gets you unlimited tags and a host of other features like charts, recommendations, lyrics, etc.
---
SoundHound: Like Shazam, SoundHound dabbles in tune recognition (smaller library of songs, snappier tagging), but it also serves as a full replacement for your iPhone's comparatively barren iPod app. Think lyrics, artist info, YouTube links, etc. $5.
---
Hound: Hound is a voice recognition app that's essentially a really, really good music-specific search engine. You speak an artist's name or song title into the app and it'll pop out all the stuff you want to know. The voice recognition part of Hound is great-it's the future!-but the detailed results of Hound is what will keep it on your phone. Free.
---
MiniMash: It takes your songs, analyzes them, and lets you mash them together. The layout is way stripped down; it looks like a DJ game on Super Nintendo. Which, over here, is great! All the heavy lifting is done in the background-tempo and pitch matching-so that you can create smooth transitions and mixes for most of what you throw at it. $2
---
Flixster: While it blows my mind that I can watch movies on my phone, one thing I need it to do, and need it to do well, is find movie times for theaters nearby. Flixter does that and much more, packing box office charts, Rotten Tomatoes reviews, DVD releases and what seems like a thousand other movie-related features in one extremely handy app. Free.
---
Good Player: As awesome as VLC was before it got pulled from the app store, GoodPlayer is pretty much the same thing. It can play pretty much any video file you throw at it without the silly need to convert them. There's even Airplay support and it has the option to stream movies from the web. $3
---
StreamToMe: A lightweight client on your computer catalogues the videos of your choosing, as well as all your iTunes playlists, and then lets you easily stream the files in them easily to the app on your iPhone. The best part: all the transcoding is done on the fly, and pretty much any video format plays back superbly. $3.
---
Pandora: Pandora. You know the one. The internet radio app that has uplifted a million work hours and scored a million make-outs. It's simply the best out there, streaming music at home or on the go over Wi-Fi or 3G. Free.
---
Kindle: Just because you don't own a Kindle doesn't mean you shouldn't be buying Kindle ebooks—especially when Amazon's iOS app is this good. While it looked for a while like iBooks might come along and disrupt Amazon's ebooks hegemony, well, that didn't happen. Free.
---
Rdio: It's our favorite subscription music service and can easily replace your iPod app altogether. The baked-in social elements make it super easy to find new music your friends are digging, and the whole app just got an attractive makeover. $10/month.
---
Hipstamatic: Why do everyone's iPhone photos look so damn hip while yours look so, you know, not. Probably cause they're using Hipstamtic, the preeminent "make my photos look cool" app which lets you mix and match films and lenses (available for in app purchase) to make your iPhone photos look more analog than ever. $2.
---
Brushes: Even for the artistically disinclined, having a 3.5" palette and canvas in your pocket can be fun. Brushes is the only one you'll ever need, easy enough for the uninitiated to jump into and advanced enough to keep real artists happy. Hell, they paint New Yorker covers with this thing. $6.
---
Loopcam: Gifs are fun, but they're meant to be shared. This app lets you animate them, then spread them all over your social networks. Free
---
NPR News: You've gotta have a news app on your iPhone, because, you know, news is important. NPR's happens to be great—you can read NPR's reliably-interesting stories, download them for offline reading, and, and, listen to NPR radio stations while you're doing it. Free.
---
TuneIn Radio: A truly great radio app, TuneIn has a dizzying amount of stations both local and global, and it gives you the ability to pause, rewind, or record live radio on the fly. $1
---
Camera+: After a brief beef with Apple over a (much-missed) volume button shutter easter egg, Camera+ is back in the App Store and updating at a steady clip. It has a bevy of filters and effects that make Hipstamatic and Instagram look downright cheap by comparison. $1.
---
Filmic Pro: Like what Camera+ did for pictures, Filmic Pro does for video. The app gives you a suite of features typically reserved for the pros. There's controls for screen resolution, frame rates, and framing along with focus and exposure locks so you can get the exact shot you want. $3
---
Pick: Instagram is fun, but eventually you might tire of it. Japan's take on the photo filter app, though, is an endless fount of joy. It starts with filters, then gives you the option to add all kinds of stamps, borders, messages, and silly icons to your snapshots. Free
---
VFX: Liven up your photos with movie-style special effects with this app. Pick from lightning bolts, animals, makeup, swords, or more than 200 other goods to add to your pics. Free
---
Vimeo: The video selection on Vimeo is always stellar but the real cherry on top? Free HD video editing for all your movies, right from your iPhone. Free.
---
Photosynth: It's a free-wheeling panorama photography app by Microsoft. With Photosynth, you just just spin around, fire away and let Photosynth stitch the picture together. Free.
---
Super 8: A super fun, full featured and free vintage video camera app. Not only does it let you shoot video (with either camera), you can change effects and filters by swiping across the camera case in mock fashion and play the video by pulling down a projector screen. You can even add flickering and scratching film. So cool and so free. Free.
---
Flare: It's a video recorder app that records in High Dynamic Range. Which means it allows for a greater range of luminance between the lightest and darkest areas of an image to bring a more detailed look at the world. HDR videos take the stunning unreality of HDR photos to a whole 'nother level
---
Capture: The quickest video camera you'll find on iOS. Once you launch the app from the home screen, it starts recording instantly, like seriously instantly-so there's no valuable seconds missed. So technically, it's just a home screen button that automatically records (through an invisible app). $1
---
AirCassette for iPhone: It's a music player for your iPhone that transforms CoverFlow and iTunes and mp3s into a faux cassette player. You can relive the 80s, but without the bad hair and day-glo clothing. If you're so inclined you can make a mix tape for that special someone.
---
Cinemagram: Cinemagram uses your iPhone camera to capture a short video clip, and then convert it into an cinemagraph, which is a highly-stylized animated GIF where only one part of the image moves. You record a clip and cut it down to a length Cinemagram deems acceptable (generally a couple of seconds). Then you mask the area you want to move. $2
---
MLB At Bat: The best sports app is back in the app store for the 2012 MLB season. An indispensable app for baseball fans, MLB At Bat keeps track of everything going on in baseball—from scores to videos and stats. If you pay $15 you can get radio broadcasts and a live game every day. If you subscribe to MLB.tv, you get to stream every game.
---
Frameographer: Frames automates the laborious part of stitching together still-frame iPhone images into a video-whether it's a timelapse or a stop motion video is up to you. Open Frames up, start a new project, and hit the familiar-looking camera button to start recording. $3
---
Pick: Instagram is fun, but eventually you might tire of it. Japan's take on the photo filter app, though, is an endless fount of joy. It starts with filters, then gives you the option to add all kinds of stamps, borders, messages, and silly icons to your snapshots. Free
---
Games
Angry Birds: Probably the world's most popular iPhone game, and for good reason. There's something about launching these different sorts of aviary ammunition into the precarious pig pens that just never gets old. There are always new birds and new stages coming out the pipeline to keep things fresh, too. $1.
---
The Incident: With excellent pixel art and an admirably morbid sense of humor, twisting your iPhone around to avoid falling objects is way more fun than it sounds. And you have to appreciate anything that makes the apocalypse this enjoyable. $2.
---
Cut the Rope: Some have called it the heir apparent to Angry Birds for quick, clever, doesn't-really-ever-get-boring iPhone gameplay—lofty praise, but in many ways deserved! Cutting a rope to swing a candy into a little monsters mouth, avoiding electrical currents and spiders along the way, is quite fun. $1.
---
Real Racing: It's just the best racing game out, walking the tightrope between looking highly realistic and being incredibly fun to play. There's a good selection of cars and tracks and the graphics look wonderful. $5.
---
Archetype: An exceptionally shiny first person shooter optimized for the iPhone 4 with slick, functional controls. Best of all is the 5v5 team deathmatch mode, just like the consoles—including multiple guns, grenades, maps, and medals—except this one you play while you're sitting on the toilet. $1 (map updates cost extra).
---
Doodle Jump: You know those people you see standing on the subway or waiting in line at the grocery store clutching their iPhone to their face and tilting their entire body to the side like they're the leaning tower of Pisa? This is the game they're playing. $1.
---
Words With Friends: Why did we, as an iPhone-wielding society, suddenly decide that push-notified Scrabble (or, more specifically, this knock-off) was the most fun to be had with words since Alphabet Soup? That I don't know. But it is a hell of a lot of fun trying to slot that Triple Word Score against friends, family, and coworkers. Free with ads, or $3.
---
Infinity Blade: Angry Birds may be fun, but the graphics aren't going to blow your hair back. Infinity Blade, the first iOS game to run on the Unreal Engine, could easily be called Angry Knights. And it looks f-ing incredible. $6
---
NBA Jam: I was gonna have to go Ron Artest on EA if they bungled the iPhone port of this classic, but thankfully they've turned out a excellent, faithful update of the original. "He's on fire." "Boomshakalaka." Big head mode. It's all there waiting for you. $5.
---
Tiny Wings: Slide an adorable bird up and down hills to collect coins. The trick is to gain momentum and beat the night. Surprisingly addictive with extremely cute animations.
---
$1.
Superbrothers: Sword & Sworcery EP: A game that's an epic experience. One part 8-bit graphics, one part beautiful original music, one part adventure, and one part RPG combine for a game that's essentially about exploring and brings your childlike wonder back. $5.
---
Tiny Tower: A free 8-bit style game that lets you channel your inner landlord. You build floors on a tower to attract "bitizens" to live in it and then control their lives (manage, hire, give a job, evict). It's like SimCity but actually fun.
---
Shadowgun: Like if Gears of War was on the iPhone. Yes, the graphics are console-quality, the game is a cover-based shooter and the main characters are outrageously huge. The game is as stellar a shooter you'll find on the iPhone. $8
---
Jetpack Joyride: A side-scrolling game where you play a character on a jetpack. You avoid obstacles, collect coins and is so terribly addictive that you won't be able to put it down. There's different weapons and vehicles so you'll never get bored. $1
---
Contre Jour: Describing Contre Jour as just a game is missing the point. It's so beautiful it looks like movable art. The soundtrack is uniquely crafted, created by David Ari Leon, and the controls are organic, you can transform the environment to get that eyeball thingy to your goal. There's puzzles that you have to figure out, various obstacles to overcome and more. $1
---
Minecraft: Pocket Edition: The iPhone version is simply a Minecraft Eden, a place to build and dig. And it works fairly well. The game comes with 36 different blocks to work with, the ability to save your work on the iPhone or iPad and support for multiplayer worlds over a local Wifi connection.
---
Ghost Trick: Phantom Detective: A lovely adventure game with a lovely story and a lovely score. You play as a character who starts out dead and you need to figure out who you are, who killed you and why. An interesting take with 10 levels of gameplay.
---
Draw Something: If you're not an artist and no longer a child, I have a question for you: How often do you draw? With Draw Something, you and a friend can hone your drawing skills in a silly fun game. Think Words with Friends crossed with Pictionary plus oodles of fun. Free
---
Angry Birds Space: Even if you're totally over the Angry Birds phenomenon, whatever, get over your overness cause it ain't dying. The latest Angry Birds is the same idea as the classic ones but also the biggest departure from all that came before. You're in space! Free
---
Productivity
Brewster: There are about a dozen ways you can get a hold of someone, which can make for a messy address book. Organization on your own is tedious, but Brewster pulls together all of your contacts from Facebook, Twitter, Gmail, your address book, and more into one place. Free
---
Instapaper: Perhaps the most universally loved of all iPhone apps, Instapaper, in conjunction with a bookmarklet on your PC, strips websites of all that crap and leaves just the text, synced to your iPhone and pristinely awaiting your eyeballs. Free with ads, or $5.
---
Reeder: The best all-around RSS reader, Reeder syncs flawlessly with Google Reader (not as common as you'd think!), includes intuitive, swipe-friendly controls, and has a spartan interface that gets out of the way of the stuff you care about: your feeds. $3.
---
Simplenote: It takes notes, simply. That's a good thing! Without any whiz-bang features for tagging or appending images, SimpleNote just lets you jot things down and, crucially, keeps them flawlessly in sync with the app's website, a client (like Notational Velocity, for Mac), and its iPad app. Total note nirvana. Free.
Evernote: Everybody's favorite do-it-all note taker got a big update for iOS: a new home screen with an information-dense snippet view; a new split-view note screen which allows for multiple attachments to a single note; and easy browsing by notebook or tag. Free
---
Dropbox: Dropbox is like the SimpleNote of files—seamless, effortless syncing across as many machines as you want. And with the slick native Dropbox app, you can count your iPhone among those machines. Check out documents and photos, attach them to emails, export them to other apps, all with the cloud as your safety net. Free.
---
BoxCar: Most apps, if they send you push notifications at all, do so on their own terms. Boxcar lets you pipe in notifications for all aspects of Facebook, Twitter, and email for the unbeatable price of free.
---
Kayak: Sometimes it seems like the internet can make traveling more of a hassle, what with all the different rates to sort through and confirmation numbers to manage. Kayak actually makes the process easier—from booking your flights and hotels to organizing your itinerary. Free.
---
DocumentsToGo: If you're a businessperson, you undoubtedly are adrift in a sea of documents, pretty much every day of your life. DocumentsToGo is the best way to deal with them on your iPhone. You don't have a lot of room to stretch out when you're editing, but you'll get the job done. $10.
---
Google Voice For iPhone: What kind of bizarro alternate universe are we living in? Well, it's one with an official Google Voice iPhone app. It's missing some advanced features like calling groups and scheduling, but the important stuff—texting and calling—works beautifully. Free.
---
PasteBot: You'd never think you'd use the word "ultra-powerful" to describe a "clipboard manager," but that's basically what PasteBot is, an app for organizing and managing copy clippings—text, photos, links, whatever—not only on your iPhone but, and here's where the magic happens—between your iPhone and your Mac, too. $3.
---
2Do: A to-do app on some serious steroids, 2Do can organize parts of your life you didn't even know needed organizing. It has a slick interface and enough features and syncing options to keep even the most fastidious productivity nuts busy. $7
---
WolframAlpha: WolframAlpha—formerly $50, now just $2—is smart. Like, scary smart. It's part calculator, part search engine, but for any situation in which you need facts—population of Waco, TX; observable stars in the universe; unemployment rate in Boise—it's indispensable. $2
---
Google Translate: Google Translate's been kicking around for a while, but the new native iPhone app really makes translations enjoyable. It supports tons of languages—many of which it'll speak back to you—and has handy features like full-screen text translations for when you're waving your phone at some bewildered cab driver. Free.
---
PhotoSync: Don't ever tie your iPhone to your computer for pictures again. It wirelessly transfers photos and videos to and fro your computer through Wi-Fi and can even dance with the iPad. So easy. $2.
---
Wi-Fi Photo Transfer: Wi-Fi Photo Transfer brings photos from your iPhone to your computer (not the other way around) and is super easy to use. Just fire up the app, plug in an address in your computer's browser and pick and choose which iPhone pictures you want to bring over. Easy. Free.
---
iWork: Pages, Numbers, Keynote. It's iWork on your iPhone. You can tweak documents you've created on your Mac or iPad, or make new ones with a buffet of characteristically nice-looking templates. It's great: a full list of transitions for slides in Keynote; a variety of charts for data in Numbers; fonts for every occasion in Pages.