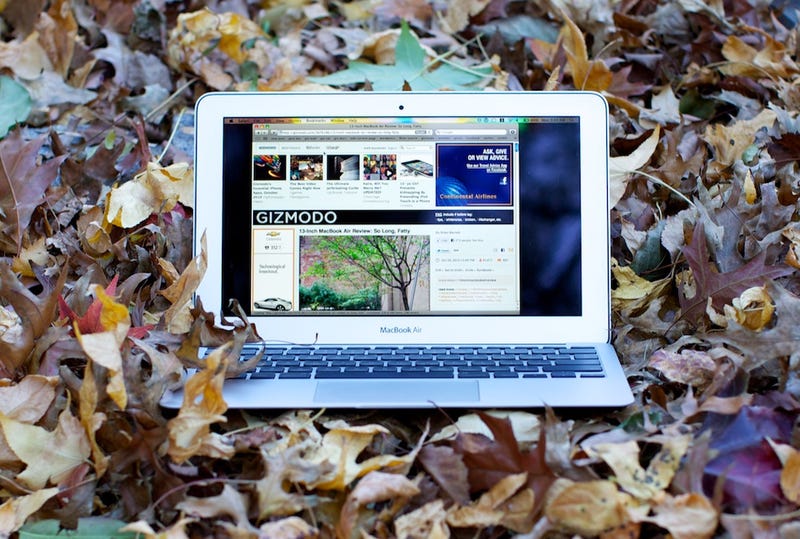 The 11-inch MacBook Air is marvelously twee—most people will quite literally marvel at it. It's stupid thin. And if it were any lighter, it would feel more like a trick than a tiny wonder of engineering and design.
Specs
11-Inch MacBook Air (late 2010)
Price: $999
CPU and Graphics: 1.4GHz Core 2 Duo processor, Nvidia GeForce 320M GPU
Memory and Storage: 2GB RAM, 64GB flash storage
Display: 11.6-inch (1366x768)
Battery Life: Approx. 4 hours with continuous browsing at 50% brightness
Weight: 2.3 lbs
Ports: 2 USB, Mini DisplayPort, headphone/mic jack
Of the MacBook Airs, it most credibly possesses some small niblets of the iPad's DNA—namely, the portability gene. The 11-inch Air is the most portable MacBook that Apple makes, the first really tiny Apple laptop since the 12-inch PowerBook went extinct. And while the Air costs as much as the lowly plastic MacBook, it's the iPad it'll be pulling people away from. The people who wanted a nearly invisible computer they could take anywhere.
The difference is that the iPad is the first computer you can take to bed, and the Air is not meant for lounging around under the covers. It's a fully productive computer. It can do anything a real Mac can do, unlike the iPad. The keyboard is full-sized—at least, the keys that matter are. The trackpad is giant enough. The 1366x768 res display (with more pixels than 13-inch Pro) makes work possible on a screen this size. In practice, the Air's nimbleness dramatically alters the real life flowchart of "What do I pull out of my bag to do this thing I need to do?" because now it's just as quick as any other option.