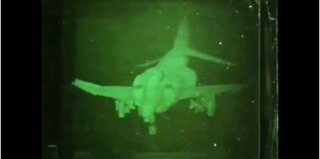 Click to viewHolography has just gained a fourth dimension, bringing the prospect of Star Wars-style holographic telepresence into the real world.
Ever since Emmett Leith and Juris Upatnieks made the first laser holograms in 1963, holography has been the future of three-dimensional imaging. Once created, a hologram can be illuminated to create a pattern of light waves that replicates the light reflected by the original object, generating a 3D image without the need for special glasses.
As such, holography seems an ideal medium for three-dimensional telepresence, like the famous "hologram" of Princess Leia in the first Star Wars movie. During its 2008 presidential election night coverage, CNN's coverage used what appeared to be holographic technology, with anchor Wolf Blitzer talking face-to-face with a virtual 3D correspondent, Jessica Yellin – but the impressive visuals were added to the camera feed rather than being projected live onto the studio floor.