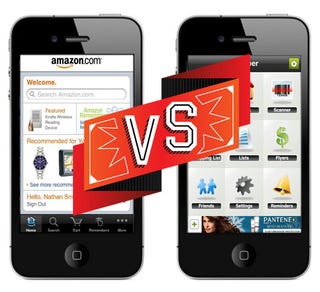 Black Friday, Schmack Schmriday: here are the best iPhone apps for shopping all year round.
GOLD MEDAL: Amazon Mobile

An app that answers a single, all-important shopping question, even if the answer is almost always the same: Should I buy this in the store, or just wait a couple days for an online order. It's actually a cornerstone my tried-and-true purchasing routine, in which I browse and choose products in a retail store, check the reviews online, then order for a lower price, instantly. Sorry, actual stores!
The barcode scanner works as well as any of the others in the App Store, and the find-by-photo feature, while rarely useful, is technically pretty cool. For a similar app that's completely focused on quick price checks, try Amazon's Price Check utility too. Free, Universal