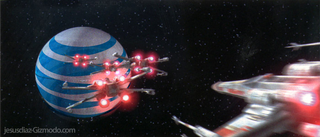 iPhone owners have long had their frustrations with AT&T. So when over half of the AT&T respondents to a Consumer Reports wireless carrier satisfaction survey were iPhone owners, it's maybe unsurprising that they finished last. It's still disappointing, though. UPDATED:
AT&T's the only carrier to see a "significant" drop in overall satisfaction compared to last year, while dark horse US Cellular wrestled the top score away from Verizon.
The carriers were rated in value, voice service, and customer support. Sprint also had a strong showing, pulling even with Verizon. Which leaves T-Mo trailing and AT&T languishing, despite having some of the best hardware out there.
Of course, the survey was strictly of Consumer Reports readers, who have their own sets of priorities and concerns. And it was only a year ago that we found out AT&T had the fastest network around—when it worked at all. Still, a tough knock for the company, and another reminder that a Verizon iPhone could spell relief to a whole lot of people.