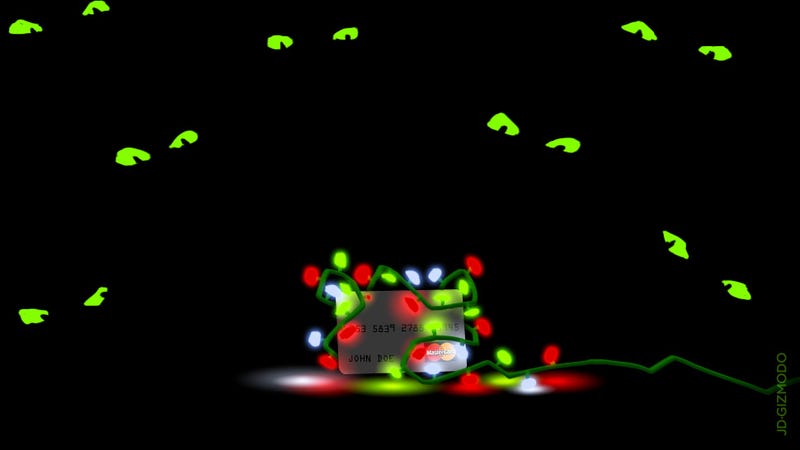 Human beings have been inventing ways to trick, swindle, and cheat one another since, well, always. And it just so happens that the season of giving perfectly coincides with the season of (unlawful) taking. Humbug!
This is no coincidence. As we furiously swipe, withdraw and plug our personal info into myriad web sites this holiday season, those interested in making off with such data have a distinct advantage. Thanks to a combination of general ignorance and criminal ingenuity, these (often old) scams remain as successful as ever.
"Now is definitely the time when the general public tends to get screwed," says EJ Hilbert, president of Online Intelligence. As a former special agent for the FBI, Hilbert spent the better part of eight years hunting down scammers, hackers and other cyber criminals for the government, and is well-versed in the various ways they use the holiday shopping season to their distinct advantage.
So why does the end of the year always correlate with a dramatic uptick in scams and fraud? Simple, says Hilbert. We spend more money and pay less attention to our statements.
"Everybody is buying and buying and buying and not thinking about much else," he says. That means it's easy pickins for those who traffic in stolen financial info. Not only are scams generally more effective during this time of year, it's also easier to make the actual charges (small ones, between billing cycles) once you've successfully obtained someone's personal data. Unsuspecting consumers won't see these purchases for at least 30 days. And by that time, one of two things happen: They either forget what they've purchased, or they're in such a rush to get it handled that we simply pay it and completely forget about it.
Don't assume we're getting any wiser to this unfortunate reality, either. While the rise in scams and fraud during this time of year has been consistent since the advent of e-commerce, overall we actually appear to be getting duped more. According to the Internet Crime Complaint Center's (IC3) latest report (.pdf), complaints of online fraud grew substantially in 2009. The site registered a total of 336,655 poor souls who had in some way been swindled last year. That's a 22-percent increase from 2008. And as for the total monetary loss linked to online fraud? That came in at $560 million—about double the $265 mill reaped in 2008.
Here are some of the scams that have historically been the most successful, and what you can do keep from having unhappy surprise come January.
1. The Fake Online Shop
Yup, the original Internet scam is alive and well–-or at least a variation of it is. While it's really just an extension of older scams (the mail order scam, etc.), this swindle is consistently responsible for the bulk of consumer complaints, according to IC3. Crooks create a fake online store and sell things like 25-cent iPads and other ridiculously priced (or free) gear. As Hilbert notes, cyber criminals will often spend the extra time and effort to post fake recommendations on rating sites to help move their phony shop into the top slot on search engines. Gullible and deal-hungry consumers (that'd be us) stumble upon them, and, in our infinitely unwise haste, make the purchase. What happens next? Exactly what you'd expect. The crooks charge your card and never send out any product. For the creator(s) of the site, the whole endeavor costs maybe $5-10, which of course they've paid for with another stolen credit card. The lesson? "Even when you're hypersensitive and paranoid, time and effort and speed of transaction always over takes your paranoia," says Hilbert. Damn your convenience, Internet!
What you can do: Stop being gullible! If it looks too good to be true, it is. Period. Now go back to Amazon. Or at least buy something from me. ShadyGardiner.com has the best holiday deals, I swear!
2. ATM and Other Skimming Schemes
As we reported earlier this month, the US has seen a substantial rise in ATM fraud over the past few years. But skimmer usage also sees a dramatic boost during the holidays. There's the traditional ATM machine and the gas pump skimming schemes, but this is the time of year when POS skimming comes into play as well. Here's how it works: You grab dinner at Chili's and hand the waiter (the one with the tear tattooed on his cheek) your card at the end of the meal. When he goes back to charge it, the card gets skimmed and charged—somehow. Repeat ad infinitum. This card info is then later sold online where crooks are doing a little holiday shopping of their own, paying 30-40 cents per card number.