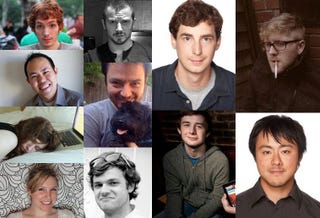 Happy holidays, dear all, and thank you for reading Gizmodo. While we didn't send out cards to each of you, we did want to take a moment to remind you that we appreciate you and wish you happy holidays.
Much love,
The Gizmodo Crew
---

Once upon a time, Brian Lam lurked around boxing gyms and the offices of WIRED and Maximum PC. He eventually left those for Gizmodo and its tiny staff of four people—two writers and two interns. Now that he's helped both the site and the staff grow, our Editorial Director Extraordinaire is trying out a side project called Scuttlefish, a site focusing on the awe-inspiring nature of the sea.

When Jason's not sticking things down his pants or cooing over his adorable pet bunny, he's running a pretty tight ship as Gizmodo's Lead Editor. It's difficult for any of us to misbehave too much under his watchful eyes, so we often try to get him drunk when we want to cause mischief.