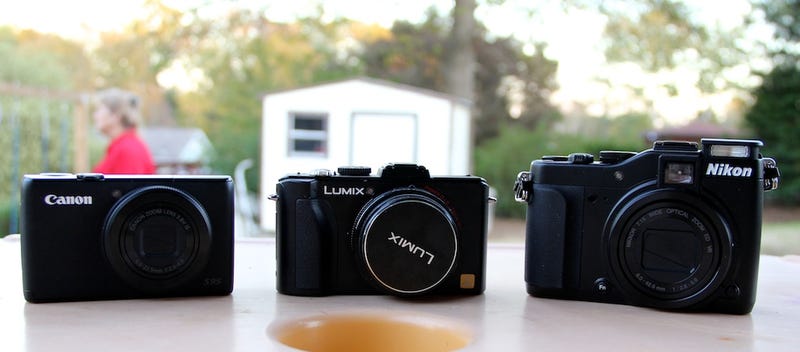 There are approximately 4 bazillion point-and-shoot camera models on the market. Mostly, borderline disposable—yet the $400 S95 was Amazon's best-selling camera 'til they ran out. Clearly, people want a better camera. These three are the best.
Canon's S95, Nikon's P7000 and Panasonic's Lumix LX5 are the three best point-and-shoots available—compact cameras aimed at pros or at advanced amateurs who want to step up their game. They sport bigger-than-average image sensors, more fine-grained controls and perks like RAW images.
Canon S95
Canon S95
Price: About $400
When: Now
Sensor: 10-megapixel, 1/1.7-inch CCD
Video: 720p@24fps (H.264)
Lens: 3.8x zoom (28-105mm), f2.0-f4.9
ISO: 80-3200
Display: 3-inch, 461,000 dots
The S95 is everything we loved about the frankly amazing S90—totally pocketable, awesome control ring, fantastic image-quality-to-camera-size ratio, feels great—but now with 720p video. Pictures are still great, and the video's fine, even if we're not blown away by the latter. Photos were the poppiest, warmest and most saturated out of the group (without being unnatural). It's also the easiest to use and most compact of the bunch.