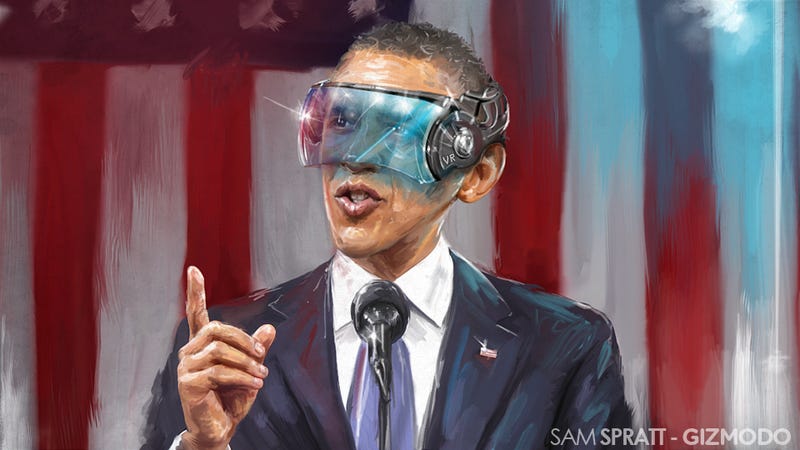 Last night, President Obama delivered his yearly State of the Union address. Jobs! War! Bipartisanship! Awkward clapping! Sleeping senators! But also, lots of future talk. Below, we break down Obama's claims for America's tech horizon, and what they might mean.
Internet
THE INTERNET! Last night Obama mentioned it a whopping six times, as opposed to a whopping zero in last year's address. Could it be all that The Social Network Oscar buzz? Let's dissect.
Today, just about any company can set up shop, hire workers, and sell their products wherever there's an Internet connection.
OK, maybe not literally true (I think logistically I'd have a hard time selling any sort of non-drug products out of my internet-enabled apartment), but Obama is right in that the internet has made any place with ethernet or Wi-Fi a place of business—a shift maybe not as dramatic, but probably as important as the "Steel mills that once needed 1,000 workers [that] can now do the same work with 100" the president also cites.
Thirty years ago, we couldn't know that something called the Internet would lead to an economic revolution. What we can do - what America does better than anyone else - is spark the creativity and imagination of our people. We're the nation that put cars in driveways and computers in offices; the nation of Edison and the Wright brothers; of Google and Facebook. In America, innovation doesn't just change our lives. It is how we make our living.
The President of the United States just shouted out Facebook in the State of the Union address. Wow. Not particularly surprising, given that social media helped (in part) to push Obama into the White House. But still! Certainly one of those sign of the times moments. Especially poignant when you imagine what presidents of the past mentioned in their addresses—irrigation ditches? Marauding Indians? Steamships? But the above phrasing is also a familiar gloss over the fact that the internet as we know it—the useful internet that's more than just a series of cables between military bases—is owed to the creation of the World Wide Web. Created in Geneva. You know, Switzerland. Yes, America makes some great things thanks to the internet (I think I saw Boehner checking in on Foursquare behind Obama), but America doesn't have any monopoly on internet innovation.
Our free enterprise system is what drives innovation. But because it's not always profitable for companies to invest in basic research, throughout our history, our government has provided cutting-edge scientists and inventors with the support that they need. That's what planted the seeds for the Internet. That's what helped make possible things like computer chips and GPS.
A jab at free market cheerleaders, but a good point. The internet, GPS, the entire space program—all courtesy of Uncle Sam. Even Google was founded with help from a federal grant.
Our infrastructure used to be the best, but our lead has slipped. South Korean homes now have greater Internet access than we do.
Truth. At the end of 2009, the US was ranked 18th in the world for average connection speed, with South Korea at the top. Granted, wiring the continental United States is a bit more challenging than wiring South Korea, but the point stands—large swaths of the country (rural areas in particular) are left in the broadband dark. Which is why...
Within the next five years, we'll make it possible for businesses to deploy the next generation of high-speed wireless coverage to 98 percent of all Americans.
Yikes. This is quite a promise, if by next generation Obama means any sort of 4G, and if by 98% he means anywhere near that number. Obama didn't elaborate on how he plans to blanket the entire country in high speed wireless internet—will it be government subsidized? A private sector rollout?—but five years should be enough time to at least plan something. Still. We're not holding our breath. It's a noble idea, but considering we can't even get reliable 3G service in New York, the prospect of 4G across the Rockies sounds like a vision of the world as seen through the Lady Gaga wonder-glasses, not anything resembling reality.