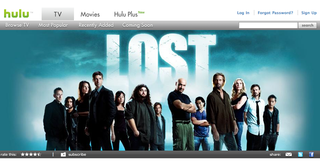 Hulu is a terrific service. Who could argue with free, current episodes of primetime TV on your computer? But for months now, Netflix has been eating Hulu's lunch. And Hulu's plan to fight back sounds more like a swan song.
According to the WSJ, Hulu's role in the future might not be as an archive of network television at all. Instead, faced with splintering commitment from its partners and intense competition from Netflix, Hulu may upend its business model entirely. Instead of a warehouse of episodic content, Hulu could become a full-fledged online cable operator. That means live shows and video on demand, all accessed through Hulu.
It wasn't supposed to be like this. Hulu launched with strong network owners in NBC and News Corp, even picking up media powerhouse Disney along the way. But with concerns that the free model takes too big of a bite out of their TV profits, those same networks are now looking to pull content from Hulu while at the same time licensing it to Netflix, Apple, and others. It's hard to grow up a winner when your parents don't feed you.
Netflix, meanwhile, continues to roll. While it doesn't have the depth of TV offerings that Hulu does, its movie selection is unparalleled and its TV selection is expanding rapidly (thanks, again, to Hulu's owners). The service has 20 million subscribers. And studios, despite some hemming and hawing, would ultimately rather make a lucrative—reportedly up to $100,000 per mid-season episode—deal with Netflix than rely on middling ad revenue on Hulu.