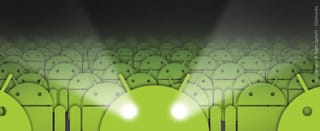 There's a lot to absorb in Businessweek's massive look at the top of Google's executive food chain. But the juicy bits are extra-juicy.
The profiles of the top Google brass tell as much about the company as they do the individuals. First, that it's a massive, sprawling institution with varying degrees of autonomy from division to division. Second, that Google and Apple have maybe moved to past the frenemy stage:
As Android became a threat to Apple in 2008, Apple began resisting Google's claim to valuable location data gathered whenever an iPhone owner used Google Maps. [Google VP Vic Gundotra]'s negotiations with Apple marketing chief Phil Schiller grew so heated that Schmidt and Steve Jobs had to intervene to settle the matter.
And then there's Google Music, a service that's been in the offing since October of 2009 but still hasn't found its legs: