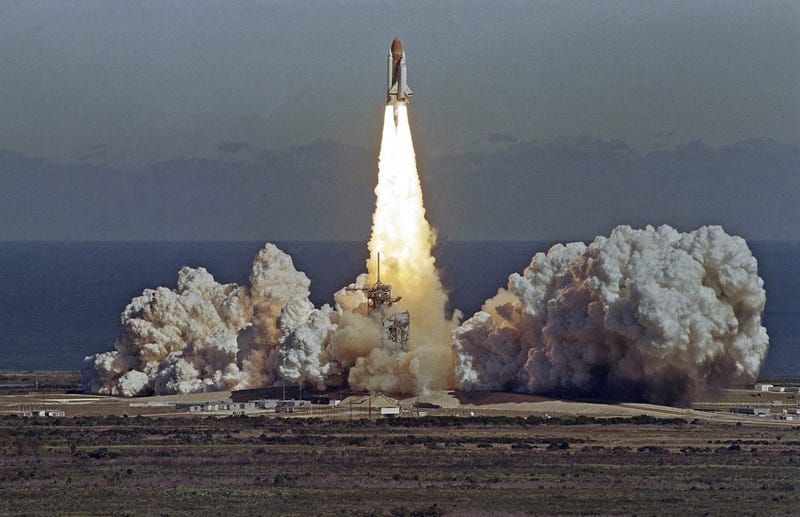 Twenty-five years ago today, the nation watched as the most diverse space crew in history took off into the sky. But after just seventy-three seconds that journey turned into a technological catastrophe like none we had ever seen before.

The tragedy was a distinctly modern one. The explosion of the space shuttle Challenger, NASA's second-oldest shuttle and one that had already completed nine missions, was undoubtedly most high-tech catastrophe in human history.

It was also one of the most visible. Along with six astronauts, the Challenger carried Christa McAuliffe, a schoolteacher and the first ordinary citizen bound for space. Classrooms across the country had tuned in to watch her ascent. Above is a first-grader's rendering of the incident, drawn a few days later.

The six astronauts onboard the Challenger along with Christa McAuliffe comprised the most diverse crew ever to man a space shuttle, including a black man, a Japanese-American man, and two women, one of whom was Jewish. Front row: Michael J. Smith, Dick Scobee, Ronald McNair; back row: Ellison Onizuka, Christa McAuliffe, Gregory Jarvis, Judith Resnik.

Throughout the day, the explosion was relived not just in our imaginations but in the footage that replayed ad nauseam on TV. In that sense the trauma itself was technological, too, setting the mold for how we would relive every national tragedy thereafter.