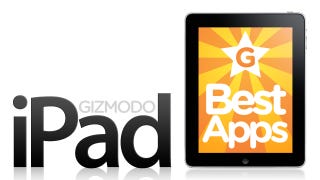 You've seen the commercials; Apps are what makes an iPad come to life. Here are the very best ones for work, play, creation, consumption and everything in between.
Social
Twitter: The official Twitter app for iPad packs in the features, giving you a full Tweet-and-browse experience. It can be a little bit overwhelming at first, but powerful things often are. Free.
Flipboard: A true testament to the iPad's transformative powers, Flipboard scrapes your Twitter and Facebook feeds for links and arranges them in a simple, beautiful magazine-style format. Free.
BeeJive IM for iPad: If you're looking for one place to corral all your chats, BeeJive is it. It's the best, best-looking IM client for the iPad, connecting to AIM, GTalk, Facebook chat and a handful of others. $10.
Skype: Skype. For iPad. Finaleffingly. It works over 3G or Wi-Fi and you can talk to anyone using Skype, which is pretty much the de facto standard for video chatting these days. There's also features for IM, emoticons and support for both front and back cameras.
Instamap: Instamap is an Instagram browsing app on your iPad that lets you check up on your stream, see popular photos and even subscribe to particular tags and locations. It's wonderfully designed and though you can't take pictures, it's as good a way to peek at Instagram on your iPad.
Entertainment
iMovie: iMovie on the iPad is great for on-the-go movie editing. There's support for gestures, an updated UI, templates and fully customizable transitions. Not to mention multitrack audio recording, Airplay compatibility and the ability to export movies in HD. $5.
KCRW Music Mine: The KCRW Music Mine app is more about the music of KCRW, the best radio station in the world by the way, than listening to KCRW itself. You can access the music of a 100 different musicians and bands, handpicked by KCRW DJs and updated daily to match the KCRW on air playlists. Pick and play as you wish. Free
Rdio: If you're not familiar with Rdio, just know that it was our favorite streaming music app because of its combination of selection, social aspects and quality music apps. The iPad app double downs on that with an easy way to check your friend's activities, offers up gigantic in-your-face album artwork and has a music player that is clearly influenced by the stellar iPod App on the iPad.
GarageBand: GarageBand for iPad is a no brainer for any budding musician. It offers 8 track recording, over 250 loops, and is fully compatible with the Mac version of GB. You get a load of virtual touch instruments too and if you want, you can plug in your guitar and use the virtual amps. $5.
Korg iMS-20: A faithful reproduction of Korg's MS-20 analog synth, this is the app that will make your music-playing friend get the iPad. It's proof of just how powerful the tablet can be as a music production machine. $16.
Sketchbook Pro: The challenge with drawing apps is packing the most features in the most accessible way possible. Sketchbook Pro walks that line, offering up enough stuff to keep real deal artists busy while making it easy enough for schlubs like me to enjoy. $8.
Adobe Eazel: Adobe Eazel works as a standalone paint application and also connects to Photoshop, sending images that get automagically scaled to whatever resolution you want. What's especially cool is the five finger interface and the mixing of wet and dry paint for color blending, with an engine that allows paint to dry over time, just like in real life. $3
Good Player: As awesome as VLC was before it got pulled from the app store, GoodPlayer is pretty much the same thing. It can play pretty much any video file you throw at it without the silly need to convert them. There's even Airplay support and it has the option to stream movies from the web. $3
Remote: With AirPlay, Apple's signalled its intentions to not just sell you music and movies but to let you move them around your house, too. The official Apple Remote is a key piece of the puzzle, serving as a rich controller for iTunes or AppleTV. Free.
TED for iPad: TED talks are some of the best content the internet has to offer, bar none. The iPad, safe from the constant, pinging distractions of the internet, is the perfect place to watch them. Free.
Kindle: Even if you don't have an actual Kindle, Amazon's still the king of ebooks. Their iPad app lets you buy books from the vast Kindle library, and you can rest easy knowing that they're on a platform that's almost guaranteed to have some staying power. Free.
StreamToMe: The iPad doesn't play nice with many file formats natively. Along with a server app you install on your main machine, StreamToMe will re-encode pretty much any video you throw at it on the fly and beam it to your iPad. Magnificent. $3.
Netflix: I've gotta say, when you're curled up in bed streaming some old TV show to your tablet, the future starts looking like a pretty alright place. With great new Instant Watch offerings popping up all the time, a Netflix subscription is essentially mandatory. Free.
Google Earth: You haven't experienced Google Earth until you've experienced it on the iPad. Seamless swishing, flicking, pinching, and zooming. Free.
The Daily: Overall, it's probably the best iPad newspaper/magazine/multimedia experience/whatever to date. There's a tremendous amount of high quality content in a variety of sections, with sharp writing, beautiful photos, and well-produced video sprinkled throughout. Free, for now.
The Atavist: For some people, the iPad is the device with the potential to liberate long-form journalism from the distracting confines of the PC. It's with that noble aim that the Atavist, an app that vends long-form, multimedia-enriched articles, was created, and it's off to a promising start. Free, $3 per article.
Marvel Comics: Comic books for the 21st Century. Marvel serves up its host of heroes in a slick, easy-to-read app. Issues can be purchased a la carte or gobbled up buffet-style with a $50/year digital subscription. Free, about $2 an issue.
TWCable TV: Luckily, if you're unlucky enough to deal with Time Warner as our cable and internet provider, you get an iPad app that streams 32 channels of Live TV...for free. It basically adds another TV to your house littered with channels of ABC Family, BET, Comedy Central, MTV, and others when you're on your home Wi-Fi. Free.
VinylLove : VinylLove for iPad is a music app that beautifully mimics a record player. You can thumb through alphabetized crates of records (the songs on your library), move the needle (to fast forward) and even hear the digitally added slight crackle and pops. There's a history to that mp3! $5.
SnagFilms: It's a free streaming video app that specializes in documentaries. The selection is pretty decent, ranging from the popular like Super Size Me to super interesting subjects like Young Yakuza. A great app to have in your arsenal when you want to wrinkle that brain of yours. Free
Planetary: Planetary is an iPad-only music player that renders your music collection as a stunning universe of stars (artist), planets (albums), and moons (songs). It's a totally new way to explore music and brilliantly executed. Everything looks great, responds to touch and filled with clever details. And it's free. Free.
HitPad: Hitpad is your explainer for all things going on in the world, or well, all things going on in the world according to the Internet. It finds the current 'trending topics' and gives you the news, tweets, videos, web and photos about them. It's a tidy and attractive app that keeps you up to date.
NASA Visualization Explorer: The NASA Visualization Explorer app brings a new topic from the space agency to your iPad each week. It's chock full of images, videos and scientific information. From Polar studies based in Antarctica to the movement of marine deserts, you'll get to see a side of NASA that doesn't often make the front page news. Free
Snapseed: Snapseed is a photo editor for the iPad with clever controls and snazzy textures and filters. The coolest part about Snapseed is how you use it though. You just select the effect or adjustment you want to make from the bottom bar and then cycle through the options with a vertical swipe and adjust your settings with a horizontal swipe. $5
Luminance: What makes Luminance stand out in the increasingly crowded space of photo editing apps is that it's great at handling layers. Each effect-vignetting, tweaking exposure and white balance, etc.-is a layer that you can re-arrange to see how the picture changes and delete to see how it looks without the effect. Editing like a pro.
World War II Interactive for iPad: An entire app dedicated to the war to end all wars. You can follow the entire timeline of events, from what caused World War II to the Aftermath and everything in between. What's especially great about World War II Interactive is that the app provides you with rare pictures and videos you've probably never seen before (unless of course, you're a big WWII buff).