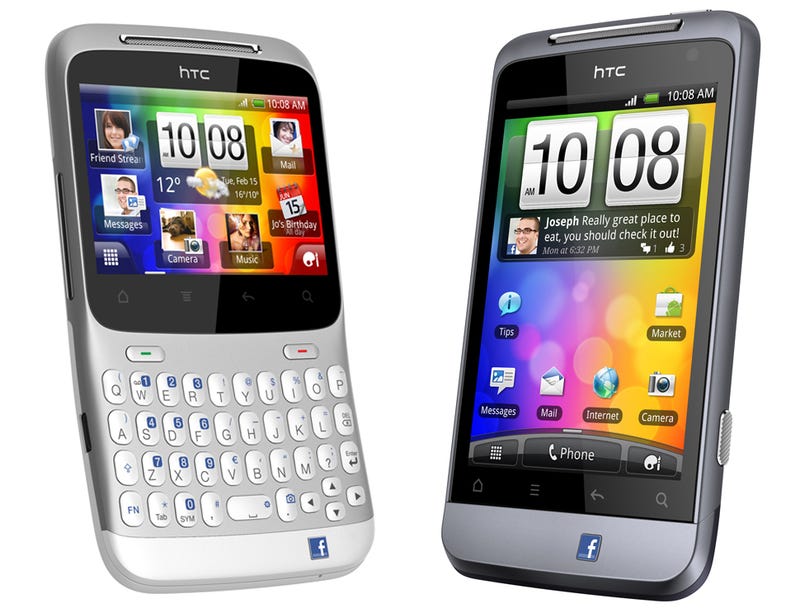 So HTC was building Facebook phones—though they're not billing them as that, despite the oddly-placed Facebook badges. Without a shadow of doubt crossing Vladimir Putin's face, the ChaCha and Salsa (need I say more?) are aimed at the "youth."
There's a one-push Facebook button for all things Zuckerberg-cool (am I doing it right, kids?), which connects the user with the opportunity to share status updates on their cool new Nikes, share photos of their new Bratz doll, or post whatever Kanye track is getting them all riled up, just by pressing that button. While I'm at least 10 years too senior for these phones, I do love the idea that whatever you're doing on the phone—taking a photo, listening to a song—can be shared with one little push.
Predictably, they're running Android—though at least it's the latest version, 2.3. Both have the Sense UI, and pretty similar specs.
As you may have noticed, the ChaCha has a BlackBerry-like QWERTY keyboard, with a weird angled body design—I guess it's ergonomic? The 2.6-inch screen has a 480 x 320 resolution, and strapped onto the back is a 5MP camera with LED flash, plus there's a VGA camera on the front.
The Salsa on the other hand resembles one of their Desire phones, and has a 3.4-inch screen with 480 x 320 resolution, plus the same cameras.
Both will be on sale mid-2011, and you can bet your boxfresh sneakers that they'll cost as cheap as chips. God, I feel old.
To view these on one page, click here