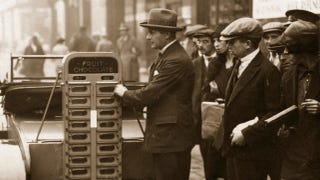 The other day I stumbled upon one of those futuristic vending machines that sell ridiculous items that I'd never buy from a vending machine. There was no way in hell I was dropping 200 bucks in that machine just to see an iPod get stuck. Ah, vending machines, when did they get so complicated?
I forgot how simple vending machines once were! You put a quarter in and out pops instant satisfaction. LIFE has a great gallery of classic vending machines and it seems like you could get anything from them back in the days of black and white photos. So much possibility! Whisky, hot meals, perfume, canned fruit, eggs, fruit chocolate and even airline insurance all had their own little vending machines. What a world. [LIFE]
I know there are banana vending machines in Japan but how come they haven't brought them to America yet? I'll take a re-introduction to this canned fruit machine as a consolation.