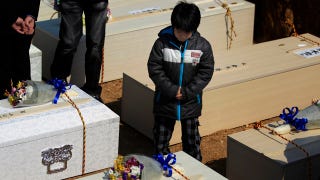 A car perched precariously on the roof of a small hut. Streets packed curb to rooftop with debris. An unnamed victim's hand, reaching out from the mud.
These are but a few of the harrowing pictures now streaming out of Japan some four days after the worst earthquake that nation has seen in recorded history. The missing, when they turn up, are overwhelming found dead, each a victim of fire or flood or collapsing earth. In one small northeastern town called Minami Sanriku, 9,500 people—roughly half the town—are missing.
The sad thing is the devastation does not appear to be letting up any time soon. The northern nuclear plants are still on high alert; a 7.5 magnitude aftershock is predicted in the next 72 hours; and I just read word of an eruption at a once dormant volcano. There's no word on any connection between the eruption and the earthquake, but does it really matter? Japan is besieged today on all sides by a merciless mother nature. The "why's" can wait for later—there is work, donation and relief to be done.
Full coverage of the response, donation advice, and the latest videos and news can be be viewed in our extensive roundup section.