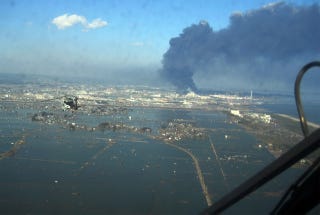 Three days after the earthquake and tsunami that rocked Japan, the rest of the world is still trying to make sense of what's happening. There's a lot of misinformation about, particularly regarding the nuclear plant situation, but what we do know is that today another explosion occurred at one of Fukushima Daiichi's reactors.
Six people are reported to have been injured in the blast (which you can see above); apparently caused by one of the walls caving in on the exterior of the third reactor. This is the second explosion, after Saturday's blast at No. 1 reactor, which has resulted in 22 people being contained over possible radiation contamination, and a further 190 possibly being exposed as well.
The US rushed a delivery of coolant to Japan after the plant's cooling mechanism failed on Friday due to the earthquake. Seawater has been repurposed as a makeshift coolant as well, sprayed on the reactors to stop further explosions or leakage of radioactive content.