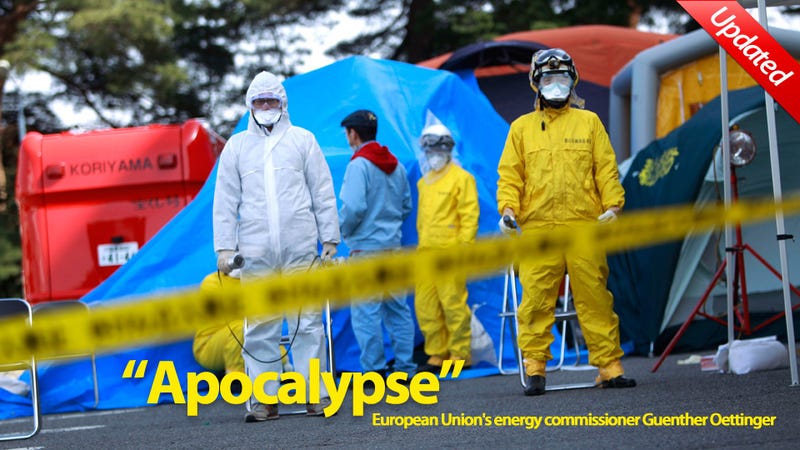 The European Union's energy commissioner Guenther Oettinger said today that the Japanese nuclear disaster is a lot worse than what Japan is declaring. In fact, he believes it could be an apocalypse:
There is talk of an apocalypse and I think the word is particularly well chosen [...] I hope that it doesn't happen, but we can't rule out that the worst case scenario [a complete meltdown a la Chernobyl] happens in the next few hours or days.
The European view on the subject is way darker than what the IAEA, the Japan government and most of the United States' media is portraying.
Oettinger said that the situation is "almost completely out of control" and that it's only going to get worse as workers get evacuated. Nuclear emergency experts believe that you can't keep the situation from escalating without enough personnel on site, pointing at the 50 engineers now at the nuclear complex. Spanish radiobiology scientist Eduard Rodríguez-Farré says that Fukushima is like a "slow-motion camera Chernobyl". According to him, the situation is now "running wild."
Yesterday, André-Claude Lacoste, president of France's national organization for nuclear safety, said that the level threat should be 5 and perhaps 6. Today, the French energy agency said that this disaster is only second to Chernobyl and has recommended to raise the alert to 7, the maximum in the nuclear event scale. France has 58 operating reactors, only second to the United States' 104.