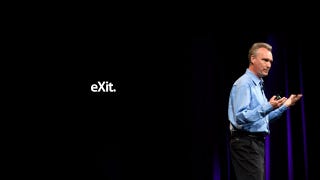 Bertrand Serlet, the guy who led the development of Mac OS X since the beginning, is leaving Apple. He was one of the heavyweights and a legendary figure at the company, even while he wasn't well known by the general public. But why is he leaving?
It's weird that Serlet is departing right now, in the middle of Lion's development, the first major update to their desktop OS after Snow Leopard. Serlet says he wants to focus more on "science" instead of products. That's a better excuse than "leaving to focus on my family", but it's not hard to imagine that the diminishing role of Apple's desktop OS has played a big part on this decision. Or maybe he's just tired, after more than two decades working with El Jobso. It's most probably a combination of both.
The iOSification of the desktop operating system in Lion and the importance of iOS itself may have played a part too. iOS—the iPhone, iPod Touch and iPad's operating system—is now Apple's main growth engine, dwarfing Mac OS X. The iOS team is led by Scott Forstall, who was also at NeXT and came to Apple in 1997 along with Jobs and the rest of the team. Forstall worked then on OS X's birth and the Aqua user interface. And while he wasn't as important as Avie Tevanian (see below) and Serlet back then, Forstall's success in the company has skyrocketed at the same speed as the iPhone and iPad themselves.