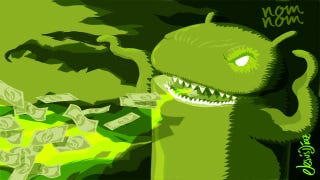 Bill Gurley thinks that Android is an unstoppable freight train that will prevail against all its rivals. For Google, Android is not even a product with a business plan. It's just a weapon at the service of their master domination strategy, a way to destroy any potential threats that may eventually kill their search monster. This is how they are doing it and the potential consequences.
"People get ready, there's a train a comin'"
—The Impressions
From Zacks via Yahoo: Mark Vickery, On Thursday March 24, 2011, 4:58 pm EDT "BlackBerry maker Research In Motion (NasdaqGS: RIMM – News) beat its fiscal 4Q EPS estimates by 2 cents per share, but missed slightly on quarterly revenues and offered guidance well below the current consensus. This has sent RIMM shares down nearly 10% in after-market trading…"
Yesterday, after the market closed, Research in Motion, the makers of the Blackberry device, announced that they would be lowering their current quarter earnings due to lower average sales prices. In a separate announcement, the company proffered that their new tablet will support Android apps, yet the CEO also made it clear that he believes the world is overly focused on the criticality of having a large numbers of applications on your platform. They also suggested that the guidance issue is temporary, and relates mainly to a product cycle not a systematic change in the industry.