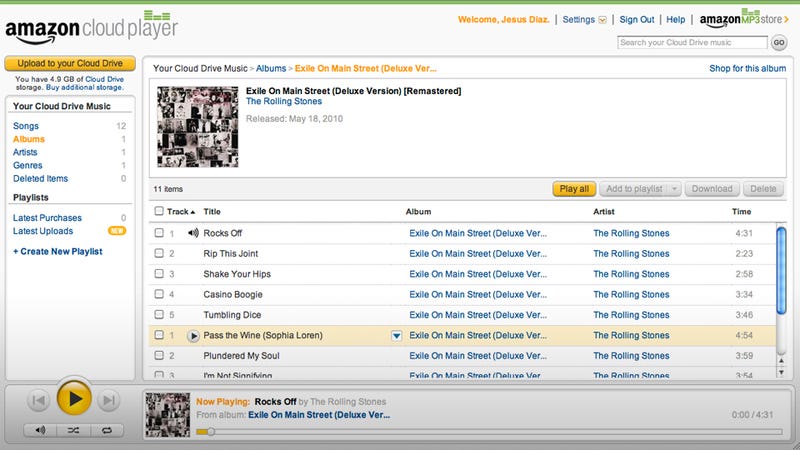 Amazon's taken a leap into the cloud, and they're taking your music with them. But what exactly is Amazon Cloud Drive? And more importantly: how do you use it?
It's a cloud-based storage service...
You get 5GB of cloud storage, free, that's yours to do with as you please. For some perspective, that's about 1,000 MP3s of middling quality. The focus is clearly music, but you can put documents, photos, and videos on there as well. And going forward, when you purchase music from Amazon, you'll be given the option to save your purchases directly to the cloud to save you the extra step of uploading later.
There are seven storage plans available, from the free 5GB all the way up to 1000GB for $1,000 per year. In fact, the pricing structure is dead simple to remember: you pay a dollar per GB per year.
...that requires a special software...


Just like you need the Amazon MP3 Downloader to get music you purchase from Amazon into iTunes, you'll need to install the Amazon MP3 Uploader to get it out. It's a quick installation and an intuitive interface that lets you pick which songs you'd like in the cloud based on playlist or artist. And again, it's what lets Amazon access your iTunes library, without which the service would be pretty useless.
...and has a few limitations...
You can't really argue with "free," but 5GB probably won't cover your entire music collection. That's fine, but sorting through your songs to get just the right cloud-worthy mix could take a whole weekend. You also can't upload songs that are DRM-protected (as in iTunes MP3s from a few years ago) or saved as lossless files. Amazon's hands are tied on the former, and the latter is understandable given those file sizes.
Speaking of file sizes—get ready to hurry up and wait. Amazon quoted me 12 hours of continuous uploading to get 5GB of music in the cloud.
...coupled with a bunch of incentives...
Amazon's the first major player to offer a service like this, and they're doing their best to get you hooked right away. That means that in addition to the free 5GB, you can tack on 15GB more with the purchase of an Amazon MP3 album. Which means you could put 4,000 songs in the cloud for as little as four bucks, assuming their Daily Deal albums qualify towards Cloud expansion.
Moreover, Amazon MP3 purchases—and honestly, you should be buying your music from there anyway—don't count towards your storage cap. That doesn't appear to be retroactive, which is unfortunate for those of us with a bunch of albums from Amazon already, but good to know going forward.