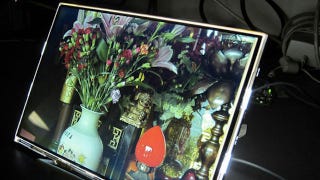 The iPhone 4's beautiful Retina Display is a little less beautiful today. Why? Because at SID 2011, an exhibition about displays, companies have revealed screens that were transparent, tablets that did glasses-less 3D and screens clearer than Apple's fabled Retina.
Here are the coolest screens from SID 2011:

Samsung 10.1-inch 300ppi display: A display that's been heard from before, the Samsung 10.1-inch, 2560x1600 display has a pixel density of 300ppi. Which is killer on such a big screen (iPhone's Retina Display is 326ppi across 3.5inches). The panel uses PenTile RGBW technology (which didn't do so hot in the Nexus One) but promises to make colors pop and consume 40 percent less power. In any case, it's still a freaking 10-inch retina display.