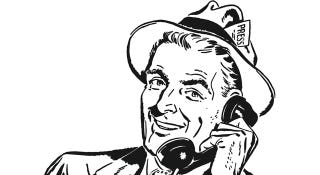 A New York Times story this morning about poor Fabrice Tourre, the colossal dick who sold fraudulent mortgage securities for Goldman Sachs, is based in part on secret emails between Tourre and his attorneys that the Times obtained from some weird ex-hippie artist who says she got them from some dude who found them in the garbage...hey, wait, what?
UPDATE: It appears that the Times misled me. Curtis Ellis, a representative for Nancy Koan/Cohen—he was in a room with her relaying questions—called to tell me that the computer at issue did indeed belong to Fabrice Tourre. "It's Fabrice's computer," he said. "It says 'Fabrice Tourre' on the startup screen. The knucklehead just threw it away in the trashroom of his fancy building."
Ellis said that, contrary to the Times story, there was no "streaming" of email to the laptop. Rather, Koan/Cohen opened up an email application once after she got ahold of the computer, and it automatically downloaded a large backlog old messages from the server onto the hard drive. No new emails came after that, he said, and Koan/Cohen delivered a copy of the computer's hard drive to the Times around April 2010 when she realized who Tourre was.
That is at odds with Times spokeswoman Eileen Murphy's claim to me that "none" of the emails referenced in the story "came from Mr. Tourre's email system."
Here's how the story—which makes the case that Tourre has been unfairly singled out for selling securities that were designed to fail when literally everyone else was doing it—says the Times obtained draft legal filings written by Tourre's attorneys:
These legal replies, which are not public, were provided to the New York Times by Nancy Cohen, an artist and filmmaker in New York also known as Nancy Koan, who says she found the materials in a laptop she had been given by a friend in 2006.

The friend told her he had happened upon the laptop discarded in a garbage area in a downtown apartment building. E-mail messages for Mr. Tourre continued streaming into the device, but Ms. Cohen said she had ignored them until she heard Mr. Tourre's name in news reports about the S.E.C. case. She then provided the material to The Times. Mr. Tourre's lawyer did not respond to an inquiry for comment.
That's some awesome luck. It reminds us of the time the Village Voice's Tony Ortega found a cache of Harvey Weinstein's printed-out emails in a TriBeCa garbage can. But it also raises some questions, as they say. Reuters' Felix Salmon, for instance, is wondering very loudly whether or not Times reporters Louise Story and Gretchen Morgenson essentially hacked into his email: