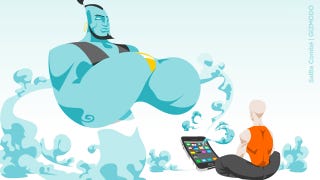 Using the first generation iPhone was unbelievable. I felt like an Amazonian tribesman who had wandered out of the jungle and tasted refined sugar for the first time. Goddamn. That's delicious. And then my teeth started rotting.
Apple is one of the most innovative companies there is. But sometimes to innovate, you have to copy. In general, iOS is the best mobile platform out there. But other platforms all had their strengths. Android and Palm and, God help me, even the BlackBerry OS all had features that I wanted. Badly. After a few years on the iPhone, I found myself making doe eyes at various Samsungs and HTCs.
I built up a list of complaints that never seemed to be answered. I wanted better application switching. I wanted alerts that let me know what was up without taking over my screen and interrupting what I was doing. I wanted to be able to push a physical button to take a photo. I wanted Blackberry-style messaging. I certainly didn't want to have to connect my iOS devices to a computer to set them up. Oh, more than anything else, I wanted wireless syncing. How very odd to make a wireless device that requires wires to use it!
After awhile, I fell out of love. The phone in my pocket? It runs Android. But after today, I can tell you that's going to change because every single problem I had with the iPhone, since day one, was solved in one keynote.
It took them a fifth iteration, but Apple not only made significant, new innovations with this iOS 5 release, it also added the best of everything else that's out there. Messaging, notifications, wireless updates and syncing. Tabbed browsing and an actual real life press-it-with-your-dirty-fingers hardware button for the camera.