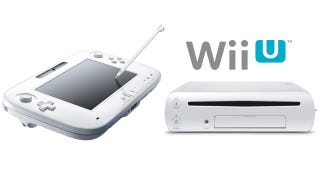 Nintendo's next console, the Wii U, has got us excited. It combines the best parts of the Wii with the graphical power of the other consoles and throws in the most insanest, ridiculously awesome controller we've ever played for good measure. But I'm sure you guys have questions. Here's what we know about the Wii U so far.
What Is the Wii U?
It's Nintendo's next generation video game system and amazingly, the video game industry's first new major home console since 2006.
Why is it special?
The controller. The Wii U's controller is smörgåsbord of technology. There a 6.2-inch full touchscreen (but not multitouch) controller with two analog sticks, one d-pad, four face buttons, two shoulder buttons and two triggers. Oh, there's a front facing camera, microphone and all the tilting, turning and motion controls of the original Wii controller too. Basically, it's the tablet-sized love child of the DS and Wii controller.
What can the controller do?
The better question would be, what can it not do, Nintendo showed off its versatility: Attached to a gun it's acting like a sight (kind of like Silent Scope), and in another demo, held portrait-style, it was a way to flick shuriken. In Aliens: Colonial Marines, it's used as a motion tracker that you sweep around you to see enemies, an interactive map, and to hack open doors in a kind of mini-game mode. You can basically play an entirely different game on the touch controller than everybody else is playing on the big screen. Or use it for another view of what's happening up on your TV. It also does video chat, it's web browser, and it mirrors photos/videos up on the TV. The potential is limitless, hopefully devs will tap into. One thing is clear: It's not its own system, since it pulls everything from the console.