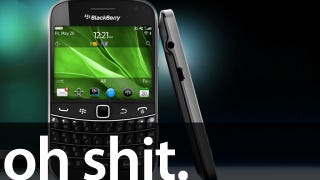 RIM, the maker of BlackBerry, was absolutely destroyed yesterday in the stock market. But that's just part of the story. RIM is screwed.
1. No new products until the summer
RIM's current lineup of phones is subpar, to say the least. Worse, basically none of the current models will get the marginally newer and better BlackBerry OS 7.0 update. Yet, RIM says there are going to be "delays in new product introductions into the very late part of August." Ugh.
2. Upcoming leaked products are boooooooring
Just look what is coming up next, supposedly: Stuff like the BlackBerry Bold 9900. Sure, it'll run BlackBerry OS 7 and might have a touchscreen! But it's also the same handset RIM has been pumping out for the last five years.