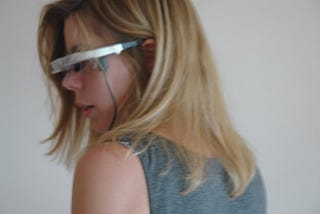 For decades I've wanted interesting, beautiful, and (sometimes) functional electronics on the most personal geographies of all, myself. When I think of "living in the future," it's what springs to mind: subtle LEDs, lots of polished metal.
Here are some milestones, mistakes, and projects in the world of wearable electronics. From geeky watches to wearable music players - I've always wanted to utilize my wrist real estate to my shoes for electronics of some kind. Many of the "wearables" I'm going to share are from my project archives, some are now "real," and others are products that are out now. I think we're finally entering an era where wearable electronics can look good and work well.
Top image via Jlndrr on Flickr.
As my friend Bryce recently said:
As the price for enabling components drops, always-on connectivity in our pockets and purses increases, and access to low-cost manufacturing resources and know-how rises we'll see innovation continue to push into these most personal forms of computing. From pedometers to cufflinks and from connected ski goggles to connected watches the rise of the wearables is upon us…
Strap on your LCD goggles - let's get started!
It's impossible to talk about wearable electronics without mentioning Steve Mann. He's a well-known pioneer in this space.
Steve Mann holds degrees from the Massachusetts Institute of Technology (PhD in Media Arts and Sciences '97) and McMaster University, where he was also inducted into the McMaster University Alumni Hall of Fame, Alumni Gallery, 2004, in recognition of his career as an inventor and teacher. While at MIT he was one of the founding members of the Wearable Computers group in the Media Lab. In 2004 he was named the recipient of the 2004 Leonardo Award for Excellence for his article "Existential Technology," published in Leonardo 36:1. … NOW, The Globe and Mail, National Post, and Toronto Life have all described him as "the world's first cyborg", from his early work with wireless wearable webcams. Mann's publications include the book Cyborg: Digital Destiny… and the textbook Intelligent Image Processing, describing his early adoption of an alternative lifestyle with significant and interesting ideas. In 2001, filmmaker Peter Lynch directed Cyberman, a film about Mann's life and inventions.
What I like about Steve's work is he never let the technology stop him from trying out new ideas, despite how "cyborgy" it looked. That said, when a lot of people hear "wearables," they think of a half-person, half-robot franken-project.
Here's my attempt at a portable, low-cost "virtual world" system from about 5 years ago (video). It worked OK, but I couldn't really move around that much, and the hardware was too slow. So, I shelved this for awhile. The thing I learned about VR worlds is despite how "futurist" they seem to be, no one really wants to put on a VR suit and use them. It's still better to use a keyboard and mouse - we will not be "virtually" shopping in VRML shopping malls. However, I did like the idea of constantly recording everything since I added that towards the end of this project.
When I was trying to record my location with a then-current GPS and videos for location-based videos, the only cameras that did what I wanted were two small (well, now large) cameras. I thought location-based video tagging and a video log of things would be interesting, but at the time (again, 5 years ago) low-ish cost cameras that could record for hours at a time to removable media were still pretty large. A GPS plus these giant glasses was not that practical, but it was fun.
I moved on to another type of wearable - one LCD - to see if that would be useful; this one was for the "geek gym" project. An LCD screen on the right lens allowed me to check e-mail, as well as health stats, while jogging. This was a little too bulky; (it was over 7 years ago). Lately I've been using RunKeeper, an iPhone app, and it does much of what I wanted with my old DIY setup.
"Mobile phones will act as routers for connected wearable computing."
Not too long after this, I saw Oakley's "MP3″ glasses, one of the first attempts to make wearable music players (as far as glasses go). I didn't like the look of those so I used an iPod shuffle (2005). Same thing for the most part - later I purchased a "Super-Tangent" iPod clone, which did recording and FM tuning, until it just stopped working (and I couldn't fix it). Granted, this was pretty silly, and I really just wanted to see how I would actually use them.
Here's a review on Gizmodo from 2008 of a couple of "new-ish" LCD goggles. They actually look pretty good.