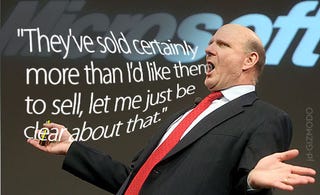 Ballmer knows the fastest way to get people talking about Microsoft is if he slags off the competition, which is exactly what he did yesterday. Boasting, he compared 350m sold PCs in the last year with their rival selling just 20m.
That rival being Apple, we can only presume, with TNW looking into sales data and figuring that Mac sales amounted to 15.25m—some way off what Ballmer quoted, but near enough that it must be them—maybe with a hit of Linux, too.
Whichever rival it is Ballmer referred to, he claimed it was "too much" and that Microsoft wishes to scoop up those 20m customers with the caressing touch of the Windows hand. This by no means is the first time green-eyed Ballmer's spoken of a rival's sales, with this time last year a report of him talking about iPad sales quoted him as saying "they've sold certainly more than I'd like them to sell, let me just be clear about that."