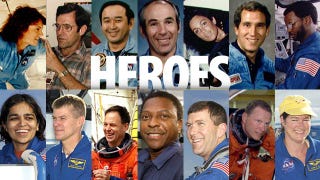 The Space Shuttle Program's 30 years brought great success—but also terrible failures and sadness. Today, as the program ends, we wanted to remember the heroes who fell along the way, and celebrate their lives.
More than 130 missions were flown, and only two Shuttle flights met disaster during these three decades. That's an impressive safety record when you think about it: This was the most complicated machine ever built—strapped to a few tons of liquid and solid explosives.
But, despite that record, those two failures still hurt so much.
The image of the Space shuttle Challenger breaking up over the Kennedy Space Center on January 28, 1986 will haunt our collective memory forever. A major structural failure in the O-rings on one of the solid rocket booster caused the Challenger to explode about 73 seconds after liftoff on January 28, 1986. All seven crew members were killed.