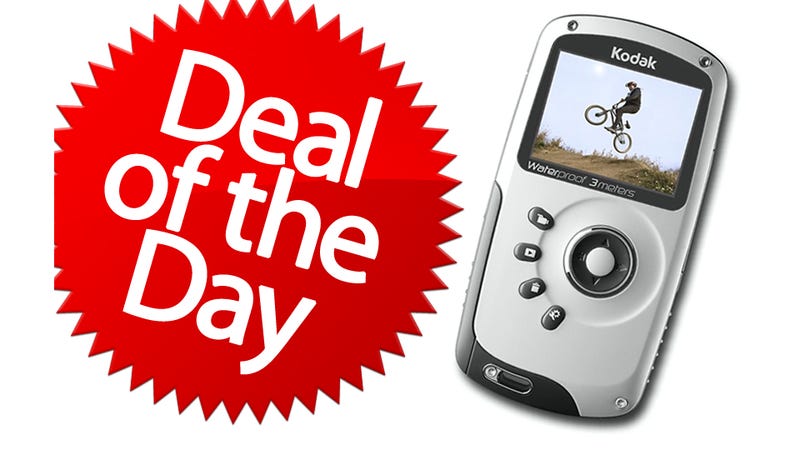 I've always wondered but never questioned why the heck waterproof gadgets look so…ugly. It's like every company who ever decided to make anything waterproof all agreed that they would clad it in as much rubber and plastic as possible. Waterproof cameras look tumurous! Rugged gadgets have to be yellow! It's crazy!
But as ugly as they can get, there's something about waterproof gear that just brings back that childlike wonder. Like I was using this disposable waterproof camera and I was oohing and ahhing at how cool it is to take pictures in the ocean. Screw an iPad! This. THIS is magic. A Kodak PlaySport Zx3 HD Waterproof Video Camera for $80 is like a disposable waterproof camera on steroids. So think about that for a second: magic on steroids. -CC

Top Deals
• 47" LG Infinia 47LE5500 1080p LED Plus LCD Thin HDTV for $940 with free shipping (normally $2000 {Savings of $1060 / 53% off})
• Canon imageCLASS MF4350d Laser Multifunction Printer (Duplex, 35-Sheet ADF) for $100 (normally $229 {Savings of $129 / 56% off})
• Logitech Harmony 520 Advanced Universal Remote Control for $44 with free shipping (normally $115 {Savings of $71 / 62% off})
h5 style="margin-top:20px;margin-bottom:10px;text-align:center;">NEW: The "Free Only" sorting option now displays by category!
Computing and Peripherals:
Laptops
Desktops
Monitors
Peripherals
Gaming:
Home Entertainment:
Personal Portables and Peripherals:
Apps:
iOS
iPad Only
Android
Hobomodo:
If a deal looks too good to be true, investigate the store and see if it's a good, reputable place to buy. Safe shopping!
[Thanks TechDealDigger, Dealzon, Logic Buy, GamerHotline, Cheap College Gamers, CheapStingyBargains, TechBargains, Slickdeals, Savings.com, and Dealhack.]
Follow Dealzmodo on Facebook

Dealzmodo is a gift from Gizmodo to you. We search the web for the best savings and deals on computers, TVs, games, etc. and deliver them to you in a daily list. Think of it as a modern day coupon book for technology and gadgets.

dealzmodo "dealz of the day" "deals of the day" "gadget dealz" "app dealz" deals dealz hobomodo top