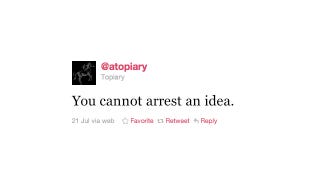 One of LulzSec's purported kingpins is now in police custody. Topiary, apparently a 19-year-old Scottish kid, was arrested by the UK's Metropolitan Police Service's Police Central e-Crime Unit today, and now en route to London. Bad news for LulzSec.
And he's not alone, according to a statement released by the Metropolitan Police:
A residential address in Lincolnshire is also being searched. A 17-year-old male is being interviewed under caution in connection with the inquiry. He has not been arrested.

Today's operation is linked to PCeU's ongoing investigation into network intrusions and Distributed Denial of Service (DDoS) attacks against a number of international business and intelligence agencies by what is believed to be the same hacking group.
Anonymous IRC supporters, in the meantime, remain skeptical (or in denial):
heyguise: do not be afraid
DMT: it's probably not topiary
raided: you have to confirm this
DMT: topiary said he would disappear for a short while
DMT: on twitter a few weeks ago I think
DMT: they've got nothing
The striking arrest follows last week's capture of TFlow, another major LulzSec operator.