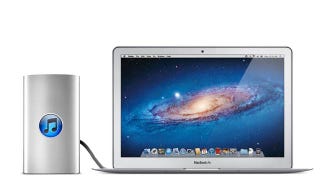 Ultraportable notebooks are finally fast enough that we can use them as our main machines. But damn, the SSDs they pack are small—how are you supposed to fit your entire music library on one of these? You're not.
Get that music off your hard drive, bawse. First off, you can get a lot of mileage out of streaming music services; there's no need to tote all 25 Air Supply albums around with you. But for the rest of your musical needs—those Phish bootlegs and Marky Mark freestyle sessions—consider getting your songs a second home.
First Things First: Get the Music off Your Old Computer
Say you just picked up one of those shiny new MacBook Airs that everyone loves—instead of just migrating everything over from your old machine, be selective. Before you do anything with your new computer, though, you need to get your iTunes music library off your old computer. Luckily, doing that is very simple. And these instructions work for Mac or PC.