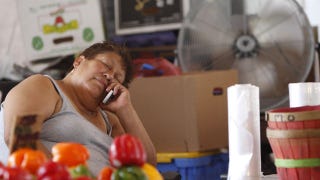 The Midwest is suffering through a record heat wave. Parts of Oklahoma have climbed above 100 degrees for 40 straight days; Texas is on day 33. On Wednesday, Dallas saw its mercury climbing to a whopping 113.
The heat wave has caused numerous deaths, put stress on the water supply and is forcing power companies to closely monitor electricity usage as a blackout would be devastating in this extreme heat.
Besides these obvious side-effects, the high temps are killing off marijuana crops which rely on nature to provide ample water and moderate heat for growth. It's also affecting travel with some railroad tracks warping under the heat. So far there hasn't been an accident, but railways throughout the region are telling operators to slow things down.
If you're in the Midwest, here a few tips to help you survive the heatwave, even if you find yourself in the dreadful situation of being without air conditioning. [KOCO and Houston Chronicle and Dallas Morning News]