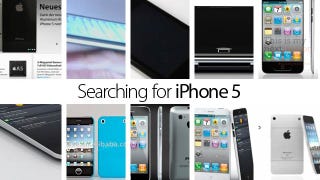 As the launch of the iPhone 5 looms, the number of idiotic fakes is increasing exponentially. Every fanboy with Photoshop is trying to be the center of attention by posting blurry images made with their cute little sausage fingers.
Here's a guide of the best and worst iPhone 5 fakes and concepts so far.
Terrible fake, lots of effort.
Our Moron Numero 1 just made a whole fake iPhone 5 site and then went on a pretended screen captured tour of it. Never mind the crappy three-dimensional renderings next to poorly set typography, because gullible fanboys around the world can't contain it their liquid pleasure explosions anymore. If you believe this is real, however, you should smash your head with a guitar, like this other assclown.
Renders based on case design.
MacRumors just published what they believe could be the real thing, all based on cases already being produced by Chinese manufacturers. The cases leave a lot of details out, but with a little imagination, they have filled the blanks. If the past is any lesson, I wouldn't be surprised if it ends looking like this.
More dümmer German crap.
These guys are not even pretending to be real. Just dropped some crude renders in iMovie, put Ken Burns on overload, and then called it a "leak" hoping to get some YouTube imbeciles.
The slim French connection.
When this slim blurry photo was published by some French dude on the web, everyone went wild. Except us, who made fun of it by showing how easy it is to fake these thinner iPhone 4s in Photoshop. This photo of an iPhone 4 was manipulated, then blurred out a bit here and there to avoid detection. If you zoom in, however, you can see the intentionally pixelated imperfections.