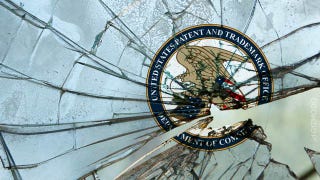 HTC sued Apple over mobile patents today. Again. Pretty soon Apple will likely sue them back. Again. Shrug. Throw it on the pile. And while the patent Cold War continues to heat up, weep for the real casualty: innovation.
I'm not a lawyer. Hell, the last time I watched Law & Order, Jerry Orbach was still flashing badges. But I am someone who's watched the tech industry eat away at itself for years now, playing the world's most expensive tower defense game with bought and sold ideas. Patents are hoarded like gold and brandished like swords. Which would be fine and good, if they were protecting old products and not destroying the new ones.
As we've said before, the problem today isn't really good ol' fashioned patent trolls. They're shakedown artists, sure, and that's despicable, but at the end of the day all they really want is money. Money that could be better spent by the big boys on R&D, sure, but the Lodsys types are a gnat.