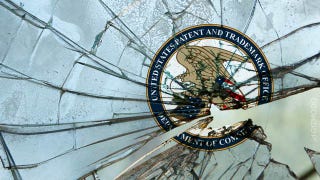 Apple is suing Motorola, Samsung and HTC; they're all suing Apple back. RIM and Kodak are suing each other. Kodak is suing Apple. Sony is suing LG. Microsoft is suing FoxConn and Barnes and Noble. Oracle is suing Google.
Nokia and Apple have already settled a suit.
And since Google now owns Motorola (pending regulatory approval) it is very much an interested party in case of Microsoft vs. Motorola, which landed in the US International Trade Court yesterday WHAT THE HELL IS GOING ON HERE?
How did this start?
Nobody in the mobile industry sweated patents until after the fact. The philosophy has largely been to go for it in terms of building products, and let legal catch up. Engineers developed, and worried about intellectual property rights later. Meanwhile individual companies filed for patents, and snapped up smaller firms that owned patents. It meant there were lots of competing claims for similar technologies. And then the lawsuits began—They started in earnest in 2009, accelerated last year, and are really starting to come to blows now.
Why are they suing?
There's no other way to tell who has the valid claim. Each company is stocking up on patent portfolios, trying to shield itself and have a bludgeon to use against others. Google bought Motorola largely for 18 key patents, but scored thousands more in the bargain. When you have two (or two hundred) patents that ostensibly cover the same technology, the only way to settle it is to hand it over to a judge.
The real answer, ultimately is that they're suing each other because the patent system is broken.