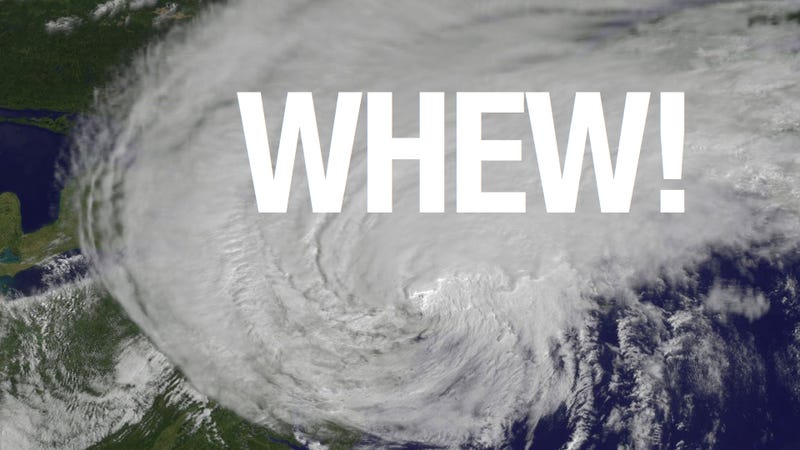 As denizens of the East Coast emerge from their storm shelters and temporary Starbucks bunkers in Manhattan, they were greeted with a scene of such utter, well, vanilla that many were no doubt wondering, as we were, "That was it?"
Editor's Note: An important update regarding upstate New York and Vermont has been added to the end of this post. A vicious "second wind" of sorts involving heavy flooding and other Tropical Storm Irene-related devastation has reportedly struck those areas in the wake of the all-clear sounded in NYC and urban areas of Massachusetts. -.j.l.
Now, hurricanes are not jokes, and neither was this one. Let's just get that fact up top where it belongs. As she barreled up the coast over these past few days, Irene took 14 lives and caused an estimated "tens of billions" of dollars in damage, reports the AP.
But, that said, as the air clears and the winds die down, as they had done by about 2 p.m. here in Central Massachusetts, the apocalyptic scenarios and complete drowning of Manhattan under an unrelenting tide that 24-hour news outlets like CNN and others would have had you believe were an inevitable fact had all vanished like a fart in a brisk 65 mph wind. We were not immune to its effect, of course, having fired off a warning of our own in the swell before the storm. Lucky for everyone in the East, the storm did not "eff everyone up." We're grateful for that! But we can also sense when it's time for a proper mea culpa. (Personally, I'll be in a dingy out on Long Island Sound for leaving out mention of that Imma Gonna post in the first pass of this post - j.l.)