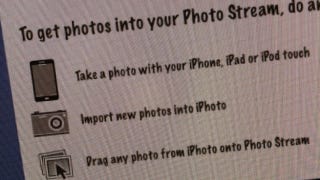 Reportedly, in the latest beta of Apple's Photo Stream app, there's a verrrry interesting icon repping for the iPhone—an iPhone that sorta doesn't look any other iPhone yet.
The screen is larger and seems wiiiiiider, stretching further out—with the phone having slightly different proportions than the current iPhones. (Update: To clarify! My working assumption in saying the screen seems wider is that the screen is larger—3.7 inches, as previously rumored—but with the same resolution/proportions—960x640—and the phone shortened. So compared to the current iPhones, the screen is going to appear wider. Because it's physically bigger, taking up a larger amount of the phone—but the phone is shorter, even though the actual proportions are going to be the same. Also, consider the wider home button. Like so. If it's the same size screen, it's just gonna look shorter. Make sense?)
The home button looks wider too, almost like a little gesture area. (Another reason It's kind of a dead ringer for This Is My Next's rendering, when seen dead on. Moreover, it matches the design implied by the latest "iPhone 5" case mockups. And given that the screenshot is coming from Apple software, it's definitely interesting.