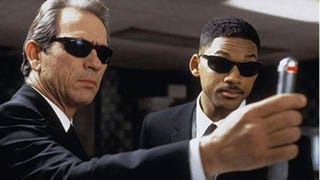 Answering to a We the People petition, the White House has officially replied to all those who wanted to know if aliens exists or if they have ever contacted us. The answer: no... but we're looking into it. Kind of.
Phil Larson, who works on space policy and communications at the White House Office of Science & Technology Policy, denied the popular belief that the US government knows about the existence of extraterrestrial life:
The U.S. government has no evidence that any life exists outside our planet, or that an extraterrestrial presence has contacted or engaged any member of the human race. In addition, there is no credible information to suggest that any evidence is being hidden from the public's eye.
OK, PHIL! Then he goes on to talk about the Kepler Space Telescope—in search of worlds in outer space— Curiosity—the next Mars rover that will perform experiments to see if there are traces of microbial life on Mars—and SETI. Which is surprising because, even while NASA helped SETI at the beginning, the government has largely ignored them since the beginning. In fact, they contribute it to shut it down on April. If it weren't for private help, SETI wouldn't be here today.